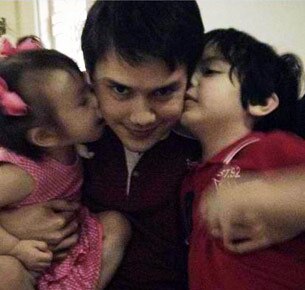 Patrick Garcia got to spend his day with his two kids Jazz and Chelsea, from actress Jennylyn Mercado and fiance Nikka Martinez respectively, on Wednesday, September 3, 2014.
The actor posted a photo of him with his two children and took to Instagram to thank his fiance Nikka for making it all happen. "Finally with both my kids! Thank you Lord! And thank you to my fiancée @nixmartinez for making this happen," he posted.
Nikka also posted a photo of Patrick and the kids. "nothing is sweeter than family being together romans 8:28 "all things work together and are fitting into a plan for good to and for those who love god and are called according to his design and purpose" ...truly god can bring good out of anything!" she posted.
She thanked Jennylyn Mercado and said that she is looking forward to more bonding time soon. "They were simply adorable! I truly enjoyed this precious moment by just being in their presence. just watching #chelseawelsy and #jazzyboy interact and seeing how happy my fiancée is makes it all soooooooooo worth it. how i wish i took more pics tho... this is the first time but definitely not the last. more to come! thank yoooou @mercadojenny see you again soon!" Nikka said.