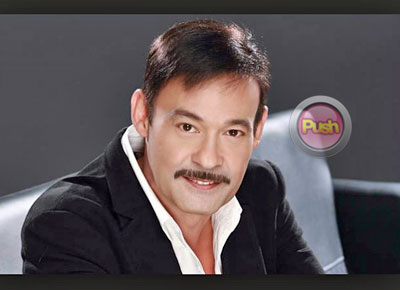 Mark Gil (Ralph Eigenmann in real life) was the offspring of singer-actor-turned-pastor Eddie Mesa and actress Rosemarie Gil. His father was known as the "Elvis Presley of the Philippines" and his mother is a reknowned actress with over a hundred films under her belt. The two separated for around a decade, but got back together later on
Mark's siblings are respected actors in their own right. His elder brother, Michael De Mesa, is an award-winning actor and is married to Julie Reyes. He has three children with his first wife actress Gina Alajar. Ryan, who usually plays the antagonist, married model-host Cathy Bordalba with whom he has two kids, Catalina Rae and Ruis Cayel. Son Geoff is better known for his light-hearted roles and hosting abilities. The youngest, AJ, tried his hand at showbiz but chose to migrate to Las Vegas where he is working as a Licensed Veterinary Technician and is married to Rosetti Robles.
Mark's only sister Cherie Gil is a dynamic actress who is active in TV, film, and theatre. She has three children: Jay, Bianca, and Raphael. She was married to Israeli violinist Rony Rogoff for 20 years before they decided to part amicably.
Mark Gil is survived by his six children: Timothy, Maxine, Gabby, Ira, Andi, and Stephanie.
Timothy and Maxine are his kids with actress Bing Pimentel. Timothy took on the screen name Sid Lucero, from his father's character in Batch '81, and has become known as a serious actor. His sister, Maxine, dabbled in showbiz, too, and has two kids, Jacob Alessandro and Massimo Lucien.
Gabby and Ira are his kids with actress Irene Celebre. Singer-actor Gabby has two sons with his wife Apples, named Matthew and William. Apples has two sons from a previous relationship, Josh and Gab, whom the Eigenmanns have welcomed into their family as well. His sister, Ira, also tried her hand at acting.
Andi, his daughter with actress Jaclyn Jose, is very active in the showbiz industry and has one daughter, Adrianna Gabrielle.
Stephanie Cheri is Mark Gil's youngest, his daughter with wife of 18 years, Maricar Jacinto-Eigenmann.
Mark Gil succumbed to liver cancer at only 52 years old. Instead of letting the illness overcome him, he chose to continue living his life to the fullest until the end. He bore his personal cross silently, surrounded by his loved ones, while he continued giving of his talent to the Filipino audience. A good man will never truly die, as his legacy lives on in his family and friends. His brother, Michael de Mesa, summed it all in his statement that "… as long as Filipino films are being watched and appreciated, there will always be a Mark Gil."