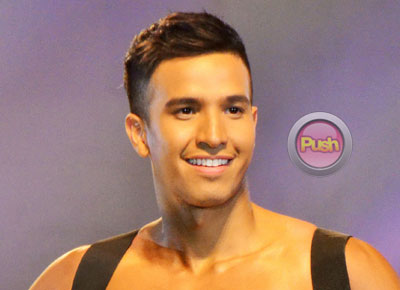 After the online backlash faced by local clothing brand Bench's recently-concluded
The Naked Truth
denim and underwear fashion show last Saturday, Markki Stroem, one of the celebrities who modelled in the show, expressed a slight agreement with the criticism.
Hours after the successful show headlined by the brightest celebrities from all networks, netizens singled out Kapamilya star Coco Martin's segment wherein he entered the stage dragging a "pet" only it wasn't a real animal but a woman acting as one while on a leash.
Netizens slammed how the said segment and other parts of the show supposedly "commodified" and regarded women as a sex object.
In an interview on the sidelines of the annual Cosmo Bachelor Bash which he participated in on Wednesday night, the former Dyesebel star emphasized that Bench was forthright about the sexy theme of the show right from the get go.
"For me Bench basically and theoretically [for] people [who] like movies and there are movies that are so out there, it's so catchy. It's so gross, it's so different but still they have a certain market and essentially they learn about it because of a trailer, right?" Markki said.
Markki reiterated that what Bench ultimately did with The Naked Truth was market their products albeit in a "weird" way. "For me I guess they were also warned because of the photos... and they saw The Naked Truth essentially and if they didn't like it then I guess they shouldn't have come. It's stock marketing. It's a way of selling. I guess their way of selling," Markki said.
He however expressed a slight agreement to the netizens' sentiments about the supposed vulgar theme of that specific segment saying that, "In my opinion it's a bit different, it appeals to a different market but for me maybe they can tone down the whole dragging of a girl around the stage."
With various opinions aired online about the show, Bench issued an apology on Tuesday for "offensive elements" in The Naked Truth. It also added that it will "continue to uphold the dignity of women."