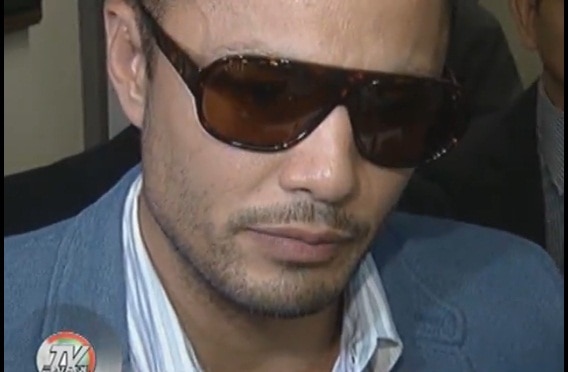 As Derek Ramsay's estranged wife Mary Christine Jolly belied all his claims when she filed her reply affidavit on Thursday afternoon at the Makati Prosecutor's Office, their son Austin Gabriel expressed what he thought of his father in a telling letter.
A photo of the letter supposedly written by their 11-year-old son was published by Pep which contained his disappointment about how his father treated him and about the situation that he and his mother are currently in. "I am very sad with what is happening to me and my mom. I don't want to experience all this I am just a kid. I don't deserve this I have been reading a lot of terrible things on the internet and I just want Derek to stop making my life so difficult," he began.
Austin claims in the letter that he doesn't call the star "dad" because "he doesn't deserve it" and that he truly hates him for not being a "good father" and for abandoning him and his mom.
He adds, "No matter how many present[s] he buys me won't change what he has done to me and my wonderful mom."
The boy, through the letter expressed, knowledge of his father's conduct, affairs, and even his interests. But more than what he knows, it was Austin's unanswered questions which are wrought with obvious disappointment that are most notable.
"Derek has so many girlfriends and I read that he even bought one of them a car. Derek is so obsessed with money and cars more than his family. Don't you know that family is more important? Why didn't he get me and my mom a car? Am I not important too?" he asked.
He also lamented that the entire scandal is taking his focus away from school. He said, "I cry when I see my mom cry. Derek is a liar. He always lies. He lied saying I was not his kid. Why would a father do that? What did I do wrong?"
Even if he expressly said that he wants his father to leave them alone "so we can get one with our lives" the child wasn't able to mask his dismay over his father's absence in his life.
"I cry all the time. He never came to any of my school activities while other dads were there," he noted.
While he spewed nothing but words of hatred about his father, Austin showed utter love and support for his mother. He said, "I hate seeing my mom suffer. She works do hard to take care of me. I can see how much she loves me. My mom is the best person in the universe. She tries to give me the best life. I will never leave her."
Austin continued, "My mom made a mistake marrying such an evil person and I wish he would go to jail so he would finally know what it feels like to be treated with no respect. The truth will prevail not his lies."
An interesting addition to the letter was Austin's supposed drawing of him and his mom in a "love land" while he juxtaposed it with a drawing of a man behind bars which he labeled to be Derek.
Last month, Mary Christine arrived in Manila and filed a violation of Republic Act No. 9262 case, otherwise known as the Anti-Violence Against Women and Their Children Act of 2004, against the actor which prompted him to admit about their marriage in 2002.
Because of his negligence, Mary Christine asked for a lump sum of P48 million, which she justified to be fair based on the actor's financial capacities after drawing flak from critics for the exorbitant amount. (Read here)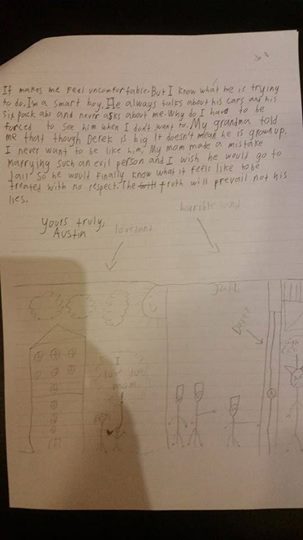 However, it seems that after talks yesterday, the couple has come to an amicable settlement regarding child custody.

WATCH FULL STORY HERE