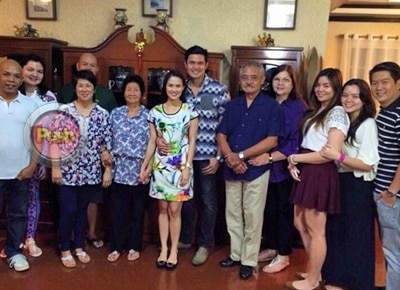 Dindong Dantes has sought the blessing of Marian Rivera's family on Wednesday, September 17, 2014 as they are soon to tie the knot in December this year.
The actor shared on his Intagram account the details of his "pamamanhikan". Dingdong relayed that both of the families have enjoyed sharing their respective favorite traditional dishes during the event. "Tonight, we exchanged our family's best kept dishes. Mom's famous Korean beef, Lola Inkang's menudo, and "soon to be" Mama Amy's healthy lumpia," he posted.
Dingdong remarked that the "
pamamanhikan
" is truly important to him and he thanked his family for the support they have shown. "More to the trade of meals...a promise was served between two families who support and understand each other, under the spirit of this coming marriage. I am grateful to my whole family for being there with me (except Angelo who had to attend to his studies), especially to my parents for taking the lead in asking for her hands."
He also thanked Marian's family for welcoming them to their family. "Nothing beats tradition. Philippine tradition. Ultimately, thank you to Lola Inkang, tito Leo, and tita "Mama" Amy for once again instilling the blessing. Now, we are all looking forward to the sweet dessert that a married life has to offer. Cheers! #pamamanhikan2014 #OKdinKayErpatsNiyaNoonPang2012," Dingdong said.
Meanwhile, Marian also took to Instagram to cherish the momentous event last Wednesday. She shared that she became emotional during the evening and that she truly felt blessed.
"I had tears of joy last night because I felt so valued and blessed. ?????? I am so grateful to have my family by my side, to support and love me, unconditionally. To the Dantes family, thank you for making me feel welcome, thank you for the respect, and for showering me with love for over the past 5 years. Thank you Lord for giving me these two beautiful families in my life! ?? #Pamamanhikan2014 #SiPapaTaposNaNoong2012??," Marian posted.