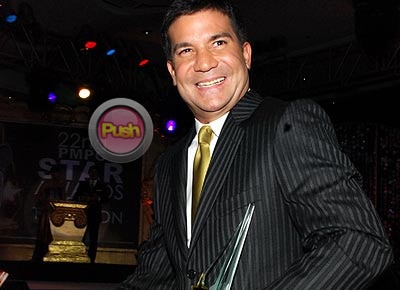 Coming right on the heels of his tweets revealing the death threats he supposedly received from the supporters of suspended Optical Media Board chairman Ronnie Ricketts, Edu Manzano clarified that he has nothing to do about Ronnie's suspension.
On Tuesday, September 9, Edu took to his Twitter account to once and for all clarify that he didn't have a hand in Ronnie's suspension. "To all the Ricketts cronies that are harassing me: WALA AKONG KINALAMAN SA SUSPENSION NG BOSS NINYO. Since 2009, I have not had anything to do with the OMB," he posted.
Edu also revealed via a photo of a document posted on his account that Ronnie's term as OMB chairman had actually ended even before his suspension.
"In the first place, EXPIRED na ang appointment ng boss ninyo, at HOLDOVER capacity na lang siya. Naghihintay na lang ng kapalit, sumabit pa."
"Bakit ba ako ang pinagiinitan ninyo? His time was done anyway," Edu further questioned.
Earlier that day, the TV host posted a screenshot of a text message of a threat sent to him.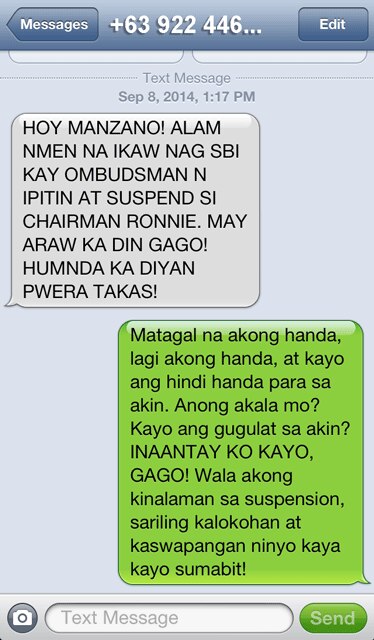 The accompanying caption read: "So, how many of you received a DEATH THREAT today? Check mine out, clearly written by AMATEURS and IDIOTS."
Last week, the media went abuzz over news of Ronnie's suspension as well as the filing of graft and corruption charges against him together with four others over supposed neglect of duty in connection with the post-raid operations conducted against Sky High Marketing Corporation in Quiapo on 2010.
Edu served as the chairman of the Optical Media Board back in 2004 while Ronnie took over the OMB five years later.