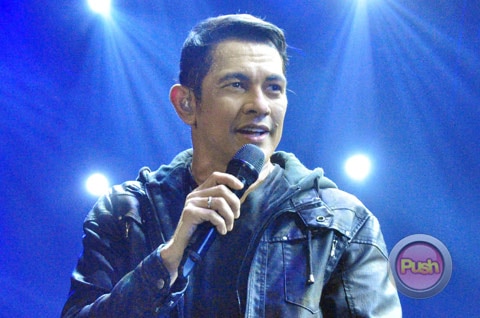 There is no doubt that a Gary Valenciano concert is worth every peso but his latest concert, the celebration of his 30th year in the business, titled
Arise Gary Valenciano The Repea
t at the SM Mall of Asia Arena last August 2 simply tops expectations due to the following items:
1. Jamming with AKA JAM

Two years since they were formed on the stage of talent show X Factor Philippines, all-girl group AKA JAM composed of Ashley Campbell, Jhelsea Maine Fllores, Katrina Velarde, Monique Lualhati, and Auriette Divina has yet to shine in a concert until Gary's Arise The Repeat. Apart from playing as his backup singers for the concert, the girls proved that they still have the talent that got them far on the now defunct talent show when they performed "He's Enough" with Gary complete with a dance number.


2. Live DJ set of Gary's dance hits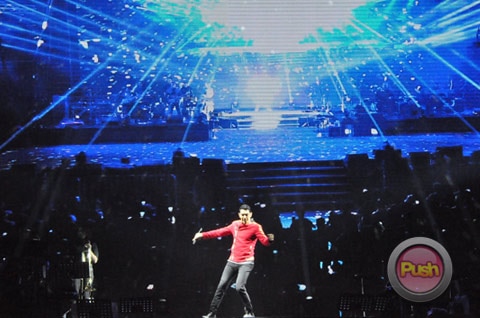 We know that Gary was among the best dance hit makers back in the 80s. This he once again proved during Arise The Repeat when he allowed his dance songs to get some "tweaking" through his guest Manolet "DJ Papi" Santos who turned them into modern-sounding house music complete with laser lights and disco ball. Among the songs they mixed were "Hataw Na," "Shake It Off," and "You Got Me Working." His performance of his recent song "Saytay" with his heir-apparent Sam Concepcion likewise deserves a nod as they got everyone on their feet and busting a move.
3. "Sa Yahweh" with the Manoeuvres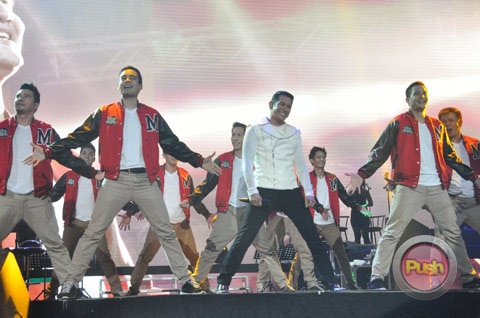 They weren't one of the best dance groups during their time for nothing. This was what the Manoeuvres proved during their appearance on Arise The Repeat when they brought the house down with Gary to the tune of "Sa Yahweh." Sure they're not as popular as other dance groups today but apparently, it was their group that first performed the said song back in the 80s.
4. Rico Blanco, the Pintados and "Babalik Ka Rin"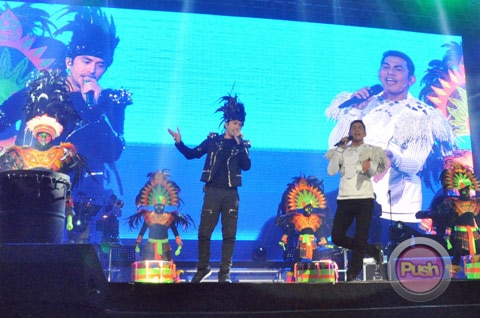 The song made popular by ABS-CBN's The Filipino Channel spoke a lot about the Filipino culture and how it was translated onstage during Arise The Repeat was the same if not better. Gary shared the stage with singer Rico Blanco and a bunch of festive and colorful masskara-wearing men while they are choreographically hitting the drums in front of them. It was so festive and colorful and filled with hope which is what most if not all Overseas Filipino Workers have in their hearts.
5. #SuperSelfie with Gab Valenciano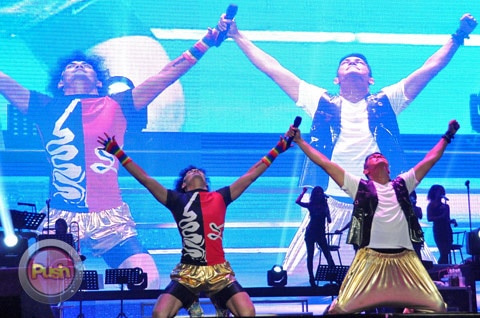 If you think that the one-man, well-edited, highly imaginative, and impeccably choreographed and perfectly timed viral #SuperSelfies popularized and done by Gab is already amazing when you see it online via YouTube then it's safe to say that it's a hundred times better when done in person, onstage, in front of thousands of people with no less than his father Gary V as his partner. This was exactly what the Arise The Repeat audience were treated to when the father and son had a dance/#superselfie face off complete with props and costume.