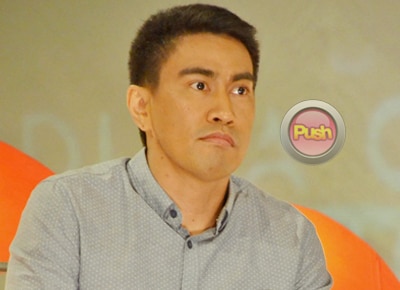 Comedian Ramon Bautista sparked ire among Davao City officials after he called the women in the city "
hipon
." During a rave party in Davao in celebration of Kadayawan festival, Ramon said, "
Ang daming hipon dito sa
Davao."
This prompted Vice Mayor Paolo Duterte, who was present during the party, to check if the organizers were following the city's ordinances, to reprimand Ramon.
"Wa nako palabya ug atong gistorya ning tawhana ug gipasabot nato nga gibastos ta niya, ilabi na ang atong kababayen-an. Pirting pangayo ug pasaylo natong tanan ug di na daw niya usbon. Nag public apology sya sa party ug mi saad nga di na niya himuon usab. (I didn't let it pass and I talked to him and made him understand that his remark was offensive especially among the women in the city. He apologized and promised not to do that again. He also made a public apology during the party and said that he will never do it again)" he shared on his official Facebook page.
Vice Mayor Paolo added, "Ramon Bautista,
ang maayong pamatasan di mapulihan sa kasikat ug impluwensya. Ug nahimo nimo na sa
uban lugar, ayaw dad-a dinhi sa amua.
(Ramon Bautista fame and influence won't suffice good manners. If you could do that in other places, don't do that in our city). Ramon Bautista,
umayos ka
."
Ramon apologized during the party after he was reprimanded by the vice mayor. "I'm here in front of you to say my apologies because sinabi ko ang daming hipon dito. Oo nga, nahihiya po ako sa inyo because you welcomed me in your beautiful city. Andito po ako lagi at nag-e-enjoy po ako dito. Para masabi ko po yung mga na marami sa inyo ang na-offend. I'll say my sincerest apologies, sana po matanggap niyo. Andito po ako para makisaya sa Kadayawan Festival at para maging enjoyable ang gabing ito. From the bottom of my heart, sobrang nahihiya po ako sa inyong lahat. Sana mapatawad niyo po ako. Mahal ko po kayong lahat," he said. Ramon's apology could be viewed in a Youtube video uploaded by @ariepogi.
Despite the public apology, former city mayor Sara Duterte took to social media to express her irritation over the comedian's remark. "Attended this Kadayawan Invasion and heard this (Ramon Bautista) guy say hipon ang mga babae sa Davao."
Sara asked the councilors to ban the comedian in the city after what had happened. "
Pila sa ako mga fb friends ang konsehal
(Many councilors are my fb friends) If you do not call out this guy persona non
grata
, [you're] doing a disservice to women all over!! P at F to you Ramon Bautista!
Bisita ka lang, gumalang ka
!" she posted.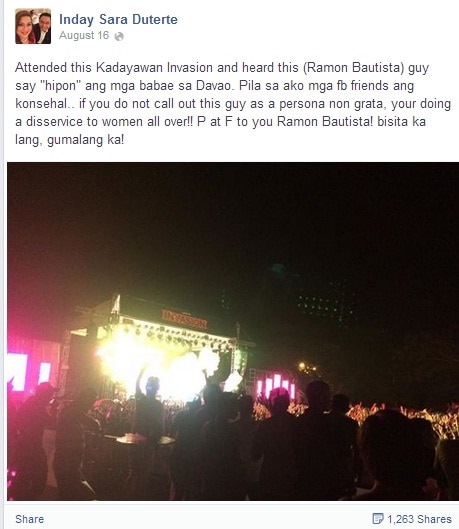 "Hipon" is a tagalog slang which is used to describe women who have sexy bodies but with unattractive facial features.