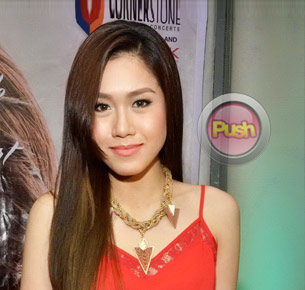 Apart from making the country proud by being part of this 25th anniversary run of Miss Saigon in London, Rachelle Ann Go has once again put the Philippines on the map by gracing a London radio station on August 10.
Rachelle, in a video uploaded on YouTube by user silverflame008, performed at Gaby Roslin's radio show on BBC-London together with the Brit Award-winning classical singing group Blake.
The singer actress playing Gigi on Miss Saigon performed Coldplay's "The Scientist" which earned her praises from the radio host among them was that her singing is "wonderful" and that she brought everyone inside the booth to tears.
Apart from "The Scientist" she also performed her Miss Saigon song "Movie on My Mind" as well as the song "Falling Slowly" from the musical flick "Once" together with Blake.
Rachelle also excitedly shared about how she felt about the guesting on her Instagram account.
"I feel so blessed that I was able to perform on BBC London Radio today:) thank you so much @thebandblake for inviting me!
@BBCLondon949 #thesaigondiaryofrachelle #london #dream," she wrote on the caption.
She also had a photo with the radio host with the caption: "Thank you @GabyRoslin for having me on your show today! It was a pleasure to meet you. You are so lovely. See you in Miss Saigon soon:) #thesaigondiaryofrachelle #dream #london #blessed."