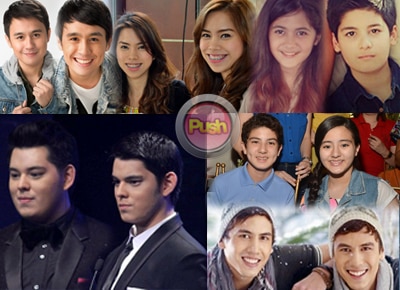 PBB All In
housemates and brothers Fourth and Fifth Pagotan may be top of mind these days when it comes to twins in show business, but through the years a lot of other sibling pairs have kept the public fascinated. Push lists down showbiz's famous twins.
Richard and Raymond Gutierrez

Born on January 21, 1984 in Beverly Hills, California, Richard and Raymond Gutierrez are sons of former matinee idol Eddie Gutierrez and talent manager Annabelle Rama.
The Gutierrez twins began acting together at an early age. Richard and Raymond starred in their father's films like the hit movie Kambal Tuko as Kokoy and Totoy respectively. "That was the most successful one that people remember until now. How can you not remember twins attached to each other!?! But you know what, when we were kids it was super just playing around. The movie set was our playground. We didn't see it as work," Raymond shared in an interview with Bianca Gonzalez in her column in The Philippine star. They had 11 movies together as kids.
Richard pursued a career in acting later on and starred in various soap operas and bagged major roles on mainstream movies. Meanwhile, Raymond pursued a career in hosting and in October 2011, became the style director of Esquire magazine.
Richard is now a father to Zion with actress Sarah Labati. Meanwhile, Raymond ventured into business and now co-owns the high-end bar 71st Gramercy in Makati which opened last February.
Both now appear on the E! reality Series It Takes Gutz to be A Gutierrez with their whole family.
Mavy and Cassy Legaspi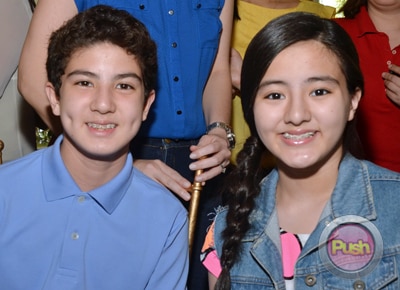 Popularly known as Mavy and Cassy, Maverick Peter and María Cassandra Legaspi are the son and daughter of celebrities Carmina Villaroel and Zoren Legaspi. They were born in 2001 in the United States.
The twins are currently two of the top young product endorsers. They star in several TV commercials and appear in several ad campaigns for a clothing line, a food establishment, and an ice cream product. They also appear in variety shows like ASAP and talk shows like The Buzz once in a while.
Both have expressed their interest in joining show business. "[I want to be] a comedy action star, like you are an action star and you are in comedy at the same time," Mavy told Korina Sanchez in her Sunday program Rated K. Cassy also wants to be an action star.
Andres and Atasha Muhlach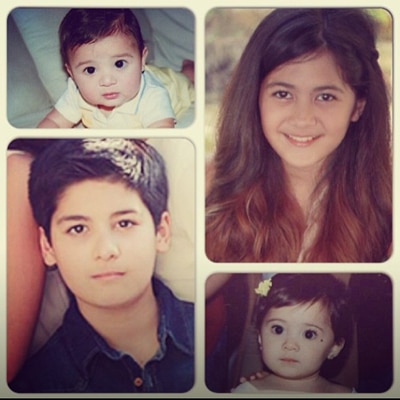 Though they are not active in show business, 12-year old twins Andres Antonio and Atasha Aaron Muhlach are pretty popular as they are the kids of actor/host Aga Muhlach and Beauty Queen-host Charlene Gonzales.
Atasha and Andres are currently focused on their studies and are enrolled in separate international schools in Manila. Though they are not visible in showbiz, the public gets update about the twins through their mother's Instagram account.
Atasha has showed signs of interest in joining the entertainment industry as she participated in a musical show way back 2011 and got nominated in the Aliw Awards for the child actress category. This was affirmed by their father Aga. "Si Andres is more natural, but I think it's my girl who wants it. I think so. Hindi niya sinasabi pero nakikita ko," Aga said in an interview. Aga though wants his kids to prioritize their schooling.
Atasha and Andres were born on November 5, 2001.
Fourth and Fifth Pagotan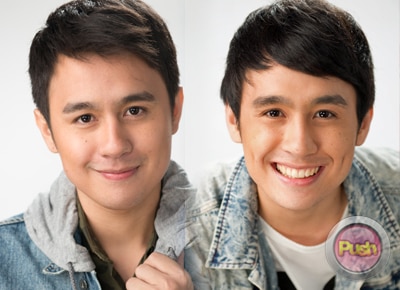 Before joining Pinoy Big Brother All In, Fourth and Fifth Pagotan were already active in the entertainment industry. Both have starred in several commercials and were hired as talents.
Besides being a cook for a 5-star luxury hotel in the country, Fourth is a voice talent for dubbed anime and Asianovela programs. He's also fond of impersonating Gary Valenciano, Janno Gibbs, and Gus Abelgas. Fifth, the more makulit twin is active in social media and uploads funny videos online. He was also doing commercials before entering the PBB house. Fifth has expressed interest in singing, dancing and drawing.
Recently, Fifth made headlines upon his admission in the Pinoy Big Brother house that he is bisexual. Fourth has expressed his support for his twin brother.
Joj and Jai Agpangan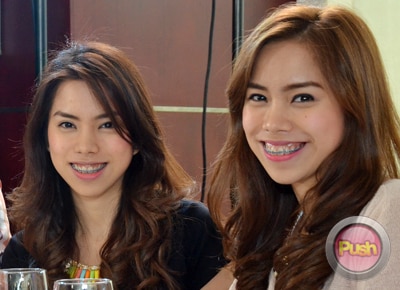 Joj Martin and Jyra May Agpangan, popularly known as Joj and Jai rose to fame upon joining Pinoy Big Brother Teen Edition 4. Born in Bacolod City on September 3, 1995, Joj and Jai were hailed as the fourth teen big placer in the competition.
Joj and Jai's fun and bubbly personas have earned them a following. Both were dubbed as the "Double Bida ng Bacolod" during their PBB stint.
The twins landed hosting gigs and starred in variety shows. They are currently hosting the online show PBB All-In Ubertime alongside PBB alum Slater Young.
Anthony Paul and David John Semerad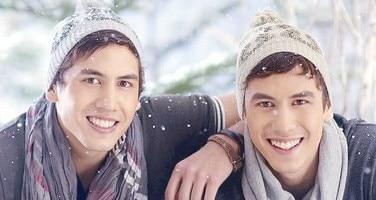 Half-Filipino and Half-Chezch Anthony Paul and David John Semerad were born on April 25, 1991. The Semerad twins were raised in Australia.
Anthony and David were top basketball players of San Beda's Red Lions. They left the school in 2011 after playing for three years. They were eyeing to transfer to Ateneo to play in the UAAP. Their plan did not push through and they decided to go back to San Beda in 2013 and played again for the team. They are currently enrolled as seniors in Business and Marketing and Communications.
The twins entered the Pinoy Big Brother house as houseguests during the PBB: Unlimited season. They pretended to be housemates from Big Brother Czech. They left the House on Day 106.
Besides basketball, they are commercial models and they do TV hosting.
Photo credits to owners on pinoyexchange.com, tumblr.com and flickr.com