Here are the six highlights of the much-talked about FHM 100 Sexiest party.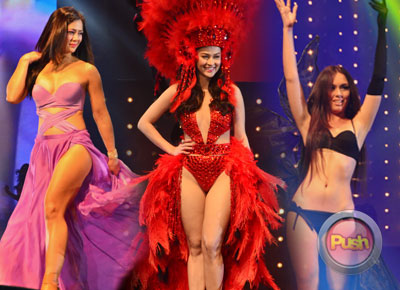 Some of the country's sexiest took the catwalk at the World Trade Center on July 9 for the FHM 100 Sexiest bash. For those who missed it, here are the six highlights that took the show to the next level.
6. Elaborate costumes
The production team transformed otherwise mundane costumes into something sexier and more exciting. Among the concepts that they played on were ghetto, Candyland, Bejeweled, school girl, boyfriend outfits, and even one that used the medieval-fantasy concept of the epic American show Game of Thrones.
5. All girl dance production numbers

It's not everyday that you see sexy girls from rival networks share the dance floor for a sizzling dance number clad in skimpy bikinis. GMA stars Jef Gaitan, Rochelle Pangilinan and Kapamilya stars Meg Imperial, Aiko Climaco, and Sunshine Garcia sizzled in one production number.
4. Best music performances from some of the country's music legends
This year, the FHM 100 Sexiest party took on the theme "FHM Live" with the tag "Rock. Roar. Rave. Repeat." In keeping true to the tagline, some of the country's famous bands like Wolfgang, Razorback, Imago, and Pedicab played onstage while the sexy ladies took on the runway.
3. Alice Dixson still has it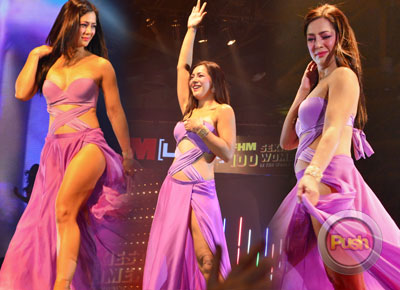 At 44, Alice Dixson has managed to keep her gorgeous looks and her rocking body. The actress seemed to not have aged one bit as she shocked the sea of men that night by sashaying in a soft pink bra top with matching skirt accentuated by a thigh-high slit.
The actress suffered a wardrobe malfunction on the runway and had to hold her top in place while showing the world she still has "it."
2. Marian Rivera's three-peat success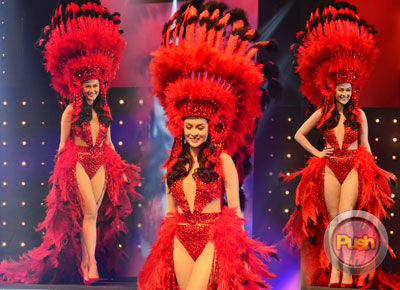 The first ever woman in FHM history to take the top spot on the sexiest list three times turned heads that night with her fiery red costume similar to the Rio de Janeiro Carnival dancers with matching gigantic headpiece.
Her gorgeous face and form got the crowd into a frenzy as they took loads of photos of her as she sashayed on the catwalk twice.
1. The revelation of Beauty Gonzalez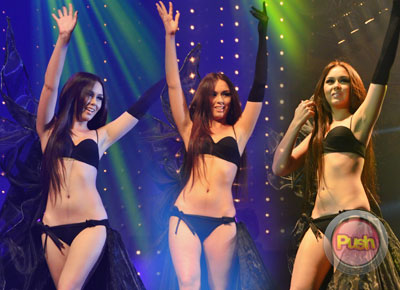 She may not have been in the Top 10 of the Sexiest list, but she did land the first spot on Push's list of scene-stealers for the mere fact that her taking the runway that night came as a complete surprise to everyone in the audience.
While she has been visible of late in movies like Starting Over Again and the ongoing afternoon soap Moon of Desire, it was only at the FHM show that the public really got to see how much she had transformed.
Once known as the chubby Dumaguete-bred young lady with the sharp tongue inside the Pinoy Big Brother house, Beauty took the runway by storm with a rocking physique and newfound confidence.