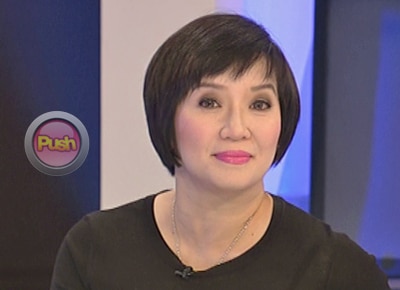 Weeks since rumors of the end of their romance surfaced, actress-host Kris Aquino once again opened up about Quezon City Mayor Herbert Bautista, this time to a few lucky Instagram followers whom she indulged with a virtual Q&A early Friday morning.
Some fans are apparently still hopeful that the KrisTek tandem will have its happy ending as a certain user expressed "joy" over news that the Aquino and Abunda Tonight host revealed recently that she is just friends with actor Derek Ramsay after months of being romantically linked to one another.
The commenter even added, "Sana may chance pa kyo magkabalikan ni HB. Maybe he is your destiny. Just saying. And pls hwag ka magagalit sa akin…"
To which Kris responded with, "Y will I get mad? You're entitled to your opinion. And HB is a friend, medyo may distance but still a friend. And from your comments you seem to really care for me- I'm touched! Thanks for the concern & good wishes."
Another fan pointed out that Kris has seemingly been "ligawin lately" but according to her this is not true for she believes that, "Parang hindi naman, marami lang gustong maki friend."
While she's yet to reveal if someone is even making her happy as of the moment or if she is already seeing someone new, another follower deemed that her personality and her achievements tend to "scare off" some men.
Something which the palpably exasperated Queen of All Media answered with: "Okay lang, parang at this point I tried the 1st half of the year to give love some effort, but now my effort is really just to forget about having a love life- ayoko na yung heartache."
Designer shoes
What interestingly started the entire interaction of the Kapamilya host with her Instagram fans was actually an intriguing post about a pair of designer shoes that was given to her and co-host Boy Abunda by a certain man whom she opted not to name.
"Before I go to sleep I just have to say THANK YOU to a new friend. He pleasantly surprised Boy Abunda & me because his secretary flew all the way from the Middle East to personally deliver shoes to us... Now that's a grand gesture! I'm sure most of you who watch me regularly know that I love shoes! But what made me feel good was that the person who sent Boy & me the gifts took time to get to know what it is we'd most appreciate. Nakakataba ng puso!!! Pwede naman i-DHL or FedEx, pero pinalipad talaga his Pinay assistant- wow! Diba @iamphildada??? #feelingcinderella GOOD NIGHT," she wrote as the photo's caption.
The post which has over 4,030 likes and 300 comments as of this writing drew mixed reactions from her fans with some even bluntly calling her attention for supposedly falling yet again into the usual traps of men.
"Dyos ko ayan ka na naman kris shushunga shunga ka na naman un lang appreciate mo na agad! Ganyan talaga pag gusto makuha ang loob mo tapos iiwan karin kasi ang ingat mo! Ull end up with no one," the disappointed follower wrote.
Kris for her part took this blow lightly and replied with, "Girl sana may magpadala rin sayo ng Loubs."
While another fan pointed out that the "grandiose effort" that she's lauding so much could've just been a coincidence because "Baka pauwi din si assistant kaya ipinakisabay na."
However, Kris was quick to defend her secret shoe-giver when she explained that, "They were in the Philippines 2 weeks ago, so I seriously doubt assistant could take a vacation leave so soon after visiting the Philippines w/ her boss… Kalurx ka naman, di mo pa ibalato sa amin ni Boy."
As she refrained from giving clues about her generous friend, fans continued to drop names. Among those that cropped up were "Jason Araneta" and a certain "Dr. Jehad." Kris however didn't confirm if the pair was from either of the two mentioned names, but according to her what she and Boy each received was from "2 different people, both friends of mine."