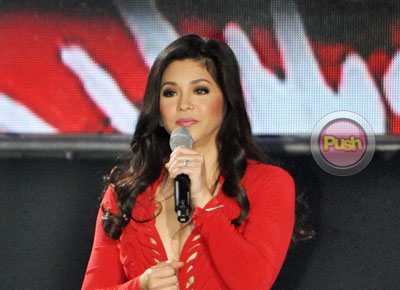 Before anyone could call her rude after giving a mouthful to one concerned fan, Asia's Songbird Regine Velasquez swiftly admitted her fault and apologized that she lost her cool over a misunderstood comment.
A certain Vangie Atilano recently tweeted the actress-singer's performance and suggested that Regine take a rest.
"Hi! You have to rest po talaga. :( Ur perf po kanina is not good. @asiastweeybird is right. Get well soon. GBU," she wrote.
The seasoned diva took offense at the comment and lashed back on the commenter and wrote, "Wow hiyang hiya naman ako sa pagkaka no good mo teh, I think you guys just expect toooooooooo much!!!! Like I said before WE ARE HUMANS and we are not always good as much as we would like to be. We are inconsistent we are not perfect NO ONE is. I'm still recovering from a really really bad cough and cold, but if I remember it right nabasag boses ko sa huli lang naman. Kung kaya mong kumanta ng ganon, ikaw na kumanta teh, para kasi ang laki ng binayad mo sakin eh :)"
She went on to ask her fans to manage their expectations a bit saying that, "Just to let you know guys there is no cure for AR well meron operation so there. Naloloka na ako sa taas ng expectations niyo grabe ibaba niyo naman! Hindi ba kayo marunong mag-enjoy na lang?! Hay :("
The Songbird's apology came a few days later by posting a quote about being ones own critic which read: "I am my own biggest critic. Before anyone else has criticized me, I have already criticized myself. But for the rest of my life, I am going to be with me and I don't want to spend my life with someone who is always critical. So I am going to stop being my own critic. It's high time that I accept all the great things about me."
But it was the caption that got Regine's fans lauding her despite her negative response tot the innocent suggestion.
"To Vangie Atilano my sincerest apology. God bless. Sensya tao lang uminit ang ulo," the wife of singer Ogie Alcasid wrote.
The post has over 1,600 likes and 180 comments of praise about her humility.