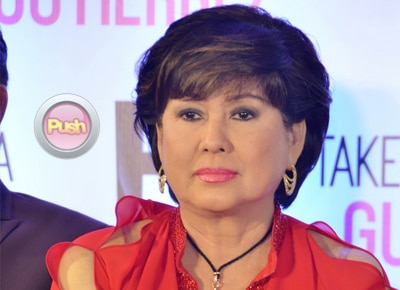 Gutierrez family matriarch Annabelle Rama didn't mince her words in admitting that keeping Baby Zion, her son Richard Gutierrez's child with girlfriend Sarah Lahbati, from the public was precipitated by the latter's former case with her home network.
"The baby might be dragged into the issue," Annabelle explained in a column published on June 3 written by Ricky Lo.


She further quoted their lawyer as saying. "Headline 'yung kaso ni Sarah at GMA; kung lumabas 'yung balita na nanganak siya, kawawa naman 'yung baby, baka madamay, baka maging circus lang sa media."


Annabelle is of course pertaining to Sarah's legal battle with GMA-7 executive Annette Abrogar which started over the executive's rumored mismanagement of Sarah's career. Among the case they filed against each other were grave coercion and libel, following Sarah's comments about Annette on social media.


Their legal row only ended early this year after both parties arrived at an extra judicial settlement. Yet amid the legal battle Sarah and Richard treaded Europe and what many do not know is that it was in Paris in 2012 when the hunk actor learned about his girlfriend's pregnancy.


Sarah meanwhile gave birth to Baby Zion in April of 2013 in Switzerland where she was also born and raised.


Despite keeping mum to speculating press about the existence of their baby, both Richard and Sarah, according to Annabelle, were actually very keen in bringing home Baby Zion to the Philippines.


"Bahala na; itago natin pagdating sa airport," Annabelle quoted her son as saying before, adding that, "Sabi niya, 'Mommy, gusto ko alagaan 'yung baby.'"


Apart from the case, another reason that held them back from speaking about Baby Zion in the open was their reality show It Takes Gutz to be a Gutierrez on E!


"We were told to keep everything a secret," said Annabelle, "that's why when movie reporters asked me why Richard didn't renew his contract with GMA or sign up with another network, hindi kami makapag-salita…until the E! Channel contract was signed and announced at a presscon."


She continued, "That was also the reason why Richard and Sarah were forbidden by the show producers (One Mega Group and TV100, with the Gutierrez Family as co-producers) to talk about the baby. Dapat daw sa show nila sabihin. It was the right time, kasi tapos na rin 'yung kaso ni Sarah with GMA. The producers wanted something 'explosive' on the first telecast."


The article further revealed that Baby Zion was only brought to the country this year after being shuttled off to the US after he was born in Switzerland. It was the Guiterrez patriarch Eddie and his son Elvis as well as Sarah's mom who took care of their baby.
According to the report, Baby Zion is set to be baptized this month and this was confirmed by Ruffa herself.
The Maybe This Time star on Tuesday evening posted on her Instagram account a photo of the invitation to Baby Zion's christening.
She wrote as a caption, "Let the celebrations begin! ???? Excited to welcome my inaanak into the Christian world! #ziontheyounglion"