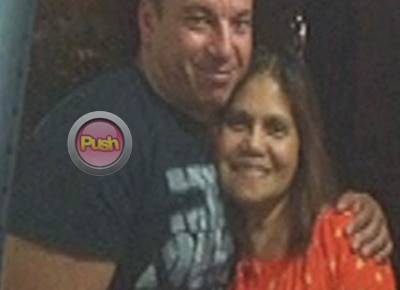 After hogging headlines lately due to her posts alluding to her grandson Baby Zion's other grandmother, Annabelle Rama, Esther Lahbati seemingly had an epiphany as to how they should address whatever differences they have.
Instead of commenting, on the issue Esther, according to the report asked The Buzz to not add fuel to the issue any further. However, she did give her husband Abdel's contact number to the show's staff for a phone-patch interview which he acceded to for he is currently in Switzerland.
But, Esther's decision changed a couple of hours after Buzz sought the side of the Gutierrez's for a response to Abdel's interview. According to the report, Esther asked them not to air Abdel's interview any further but rather just air their official statement which read:
"We have decided not to discuss the issue publicly. We believe that it is in the best interest of the people involved that we as a family resolve it in private. Thank you very much."
These posts were presumably her response to Esther's earlier lamentations about not being treated well during the recently-concluded star-studded birthday party and christening of Baby Zion.
Last June 21 though, Sarah Lahbati has posted a heart-warming message for her parents about the "maliit na pagsubok" that they're going through right now on her Instagram account accompanied with a photo of the three them when she was still young.
She wrote: "Mama and papa, I do not tell you enough how much I love you. I made and make mistakes. I am not perfect. And there's so much I've yet to learn. Without you I would not be the person I am today kaya gusto ko magpasalamat sainyo sa lahat ng sacrifices niyo for me, sa pagmamahal at sa pag alaga saakin at lalo na kay baby Zion. Thank you mama sa lahat ng tinuro mo sakin na ginagamit ko ngayon kay baby Zion. Withthout each of you, I'd be nowhere near the person I am – and the person I'm still working on becoming. There aren't enough words to express my appreciation..but I think this is a good start. I owe you one. Maliit na pagsubok lang ito na lilipas din... I love you mama and papa."