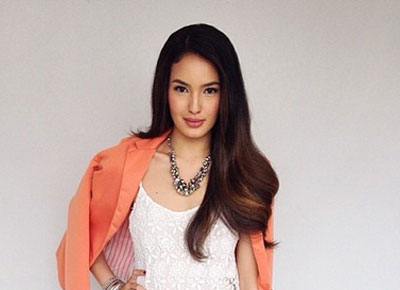 A few hours after finally admitting that she indeed had a child with her boyfriend of two years, actor Richard Gutierrez, actress Sarah Lahbati addressed the critics who are scoffing at their late admission.
Lahbati took to her Instagram account on Monday morning to air her side about those questioning the timing of their revelation by posting a screengrab of a comment of one of her followers.
The comment which she posted was from a certain user Merryl, who criticized how fans tend to go overboard in terms of "reacting" on their idols' lives.
"They say when to keep it a secret and when to publicize it. Their life, their baby, their call. Just because they're celebrities and we're the people watching doesn't mean that we have the right to make the decisions. People tend to think that because celebrities' lives are open they have free passes to meddle," lamented the post.
The post added, "Please give them the chance to enjoy their private lives. They were in a struggle we never knew the feeling of so please don't judge. They have their reasons. As fans, the best we can do is give support. If nothing positive comes to mind, just shut up. Less talk, less mistakes."
Lahbati for her part thanked the commenter for pointing such things out and "everyone else who understands."
She clarified that, she and her beau did their part to become the best possible parents for Baby Zion soon as he was born.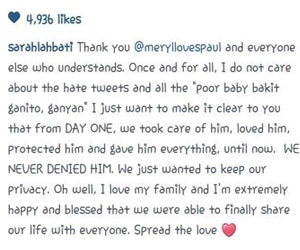 "Once and for all I do not care about the hate tweets and all the 'poor baby bakit ganito, ganyan.' I just want to make it clear to you that from DAY ONE, we took care of him, loved him, protected him, and gave him everything, until now," she explained on the caption of her photo.
Furthermore she emphasized that they "never" denied him and that they did what they had to do because they "wanted to keep" their privacy. But instead of wallowing in disappointment on their fans' reaction, Lahbati chose to remain positive amid this new chapter in their two-year relationship.
"Oh well, I love my family and I'm extremely happy and blessed that we were able to finally share our life to everyone. Spread the love," she ended.
Rumors of them having a child sprouted early last year when Lahbati chose to leave her home network which earned her an 8.5million lawsuit as filed by one of the channel's executive. Lahbati has since made peace with the network and is now working as a contract star in TV5.
Photo Credit to Sarah Lahbati's Instagram Account