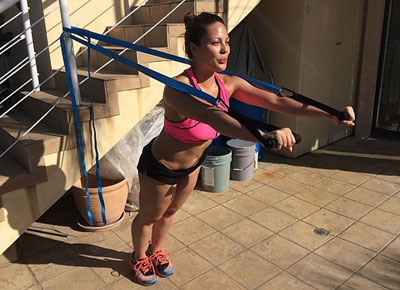 Instead of directly saying that she isn't pregnant, KC Concepcion "proved it" by posting photos of her working out on her Instagram account on June 2.
KC's statement came right on the heels of speculations that she is supposedly pregnant with rumored flame, Paulo Avelino's child.
"Once & for all: What is this rumor that I am "pregnant"??? I AM NOT PREGNANT. I have NEVER BEEN PREGNANT in my whole entire life. Someone tried to spread this rumor since I left for Paris at 18 & wow now it's back? Please," she complained.
According to KC, she isn't the type to hide such kind of blessing to the public.
"When the time comes that I would be blessed with a beautiful baby I will be the first one to proudly announce it to my family, friends, supporters, loved ones. Although I don't want to be rushed... I honestly can't wait for that day... Have a happy day, beautiful people!!! Let's work on getting fit, healthy & happy," the actress added.
KC is currently in the US taking an acting course.