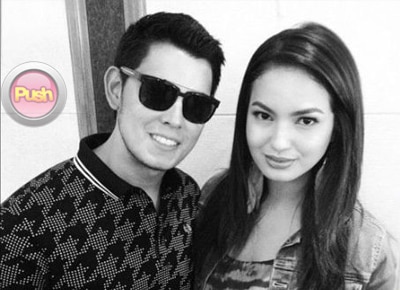 Hinting of an announcement and feeling of relief on his Instagram account, Richard Gutierrez and girlfriend Sarah Lahbati finally reveal they have a son on the first episode of the reality show It Takes Gutz To Be A Gutierrez.
Taking to Instagram also to show how proud she is of her son, Sarah posted a pic of her hand with a baby's hand resting on it with the caption, "Extremely proud to announce the new memberof our family, baby Zion."


Ruffa Gutierrez, Richard's sister, also took to Instagram to post how happy she is for her brother and Sarah. In a repost of a photo from Frank Briones, Ruffa posted that finally the 'cat is out of the bag.' "Oh my Goddddddd!!!! And I'm crying now. Grand revelation on the premiere episode of #ittakesgutztobeagutierrez .@richardgutz publicly announcing he is a proud father. So proud of you and @sarahlahbati . Crying and cheering now at Casa Gutierrez and their phones now are not stopping." ???????? the cat is out of the bag!!! So happy for @richardgutz &@sarahlahbati"
Although Baby Zion has yet to appear on the show, many are saying that the Gutierrez family have taken reality shows to the next level.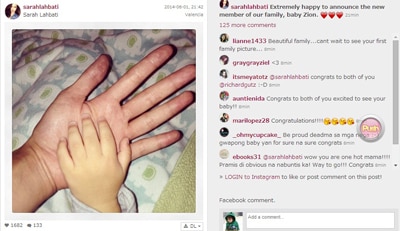 When Sarah broke her contract with GMA and left for Switzerland in 2013, many speculated that she could be "infanticipating." She has then made peace with the network and returned to acting last March. Richard has remained mum all this time about Sarah's sudden "leave of absence" except for the fact that he and the actress are still together.
It Takes Gutz To Be A Gutierrez is shown on the E! Channel (Ch. 57 on Skycable).