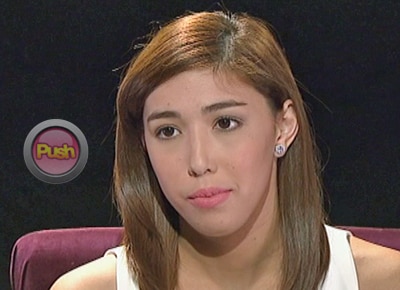 In an exclusive interview on
The Buzz
with Boy Abunda, Dani Barretto finally broke her silence regarding her aunt Claudine Barretto's issue with her.
According to reports, Claudine supposedly got mad at Dani after the latter tweeted something negative pertaining to her aunt. Dani has now taken to TV to explain herself. "Because it's too much already. She came out on TV a few days ago, saying that, she said on her interview that my tweets are suddenly about her, that I'm bashing her on Twitter, saying bad things about her," Marjorie Barretto's eldest daughter said.
She said she only took to Twitter once to defend her mother but she immediately deleted what she posted. "No. I have no idea where that came from. When she was interviewed during Mother's Day, you interviewed her on Mother's Day, I saw my mom cry, Dun ako, alam mo yun, anak ka eh, i-de-defend mo yung nanay mo. I did tweet something that day but I realized that I shouldn't so I erased it right away but she saw it."
Dani related that after Claudine's interview she was barraged with hate posts on her social media accounts. She said she did not mean to offend Claudine in anyway. "Actually after her interview haters were non-stop. Ang below the belt. Wala kang modo. Mukha kang kabayo. Panget ka. So nagtweet ko. And she said na pinalaki niya kami, she said wala daw akong utang na loob. And dun na-offend ako for my mom because my mom never left. She was always here. Sinabi ko walang ibang nagpalaki sa amin kundi mommy ko. Dun siya nagalit. Then she tweeted. I did not mean to offend her."
Dani also admitted that she's close to her Tita Claudine and thanks her for everything she has done for her family. "Yes, I'm really close to her. I thank her for everything she has done for my family like when she'd take us out, when she'd shower us with so many gifts. 'Di ko naman dinedeny yun. 'Di ko naman sinasabi na 'di siya naging parte ng buhay ko." She added however that Claudine did not send her to school. (cont.)
The young Barretto also explained that Claudine thought some tweets of hers a year ago was meant for her when it really was not. She said they could have discussed this issue on a more personal manner instead of in public.
"Ayaw na namin makisali.
We stayed neutral. We kept quiet. But this one, it was directly
sa akin na, parang teka lang naman bakit ako na.
We could have talked about this over the phone. I would have explained myself."
Dani also felt she was judged by the public prematurely because of what her aunt said in her interview. "She said wala na daw siyang pakialam kasi bastos daw ako kasi wala akong modo. Pinahiya niya ako. Sira na ako agad sa mata ng tao, di pa nila ako nakikilala. She already made people believe na wala akong utang na loob," she stressed.
On Atty. Topacio joining her aunt's tirades about her, Dani said the lawyer had no right to make fun of her. "I feel like di na siya dapat nakisali. I was more of hurt sa tweet niya than offended… No, kasi a few days ago my tita came out on TV saying those things about me. Then all of a sudden you're just going to tweet that. He doesn't know me personally, so what is he trying to say?"
Dani expressed that she got hurt with the things they have posted online. "Yes I get hurt. Kasi nakaapekto sa kin ng sobra kasi ang daming bashers na sunod-sunod akong binabash every day dahil sa tweet niya na yun. Every day. Twitter, Instagram, Facebook. Sunod-sunod yan. I go to school, and mga tao dun active din naman sa social media."
She told Boy that she only wants to clear her name with this interview and that she is raised well by Marjorie, saying "yun yun eh, na pinalaki niya ako ng may values and may manners."
Dani admitted she is more hurt than angry at her aunt. She added that there is a difference between attacking and defending somebody. "I was just defending my mom."
As for her issues with her dad Kier Legaspi, Dani said they were not able to get along so they are not close. "We don't talk. We tried to build a relationship but I guess it was too late." She also related that she had too many questions that her father could not and until now cannot answer.
Watch Dani's full interview
HERE.