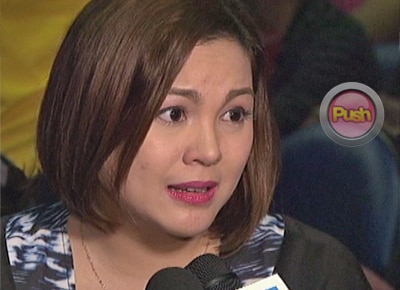 Despite being countered by her estranged husband Raymart Santiago's counsel, Atty. Ruth Castelo, actress Claudine Barretto stands by her previous claim that someone is trying to cause her harm by posting the security report supporting her statement.
The report which was posted by Claudine on May 28 was from Marban Security and Investigation Agency which was sent to the Loyola Grand Villas (LGV) Homeowners Association Inc.
Stated in the report was the reported shooting incident which supposedly happened near Claudine's home.
"On or about 0005 dated 08 May 2014 undersigned heard multiple gun shots somewhere in the vicinity of Brgy. Malanday Marikina City. I immediately instructed SIC Tarun, Marlo y Panganiban and Guatemala post guard SG Labuac, Norberto y Narez to conduct inspection/investigation along the riverside are of Guatemala Street going to Amakan area.
The report continued, "SG Labuac stayed in the area for more or less one (01) hour and noticed people having drinking session at the other side of the river along in the road of Brgy. Malanday Marikina City. A few minutes later, we received a telephone call from the security personnel of Miss Claudine Barretto of #18 Nova Scotia complaining about the said gunshots."
In response to the incident, the report further added that they first, inspected the said area and second, that they have "endorsed" the case to Philippine National Police Malanday Sub-station.
While the report failed to give further details as to the identity of the shooter, Claudine has palpably banked on it so much so that she wrote the caption: "Who's Lying or should i say who is the LIAR AGAIN?? 'Di ba't Magkapatid ang SINUNGALING @ MAGNANAKAW????"
The post has 700 likes and almost 120 comments as of this writing.
While some affirmed Claudine's distressed situation and even "encouraged" her, others felt that the report came "later" than expected which somehow casts some doubt on its authenticity and that it's "wrong" that she has made public a lot of things about her life and family that shouldn't have gone out in the first place.
Moreover, Atty. Castelo underscored that her client is already "tired" of hearing about Claudine's "lies."