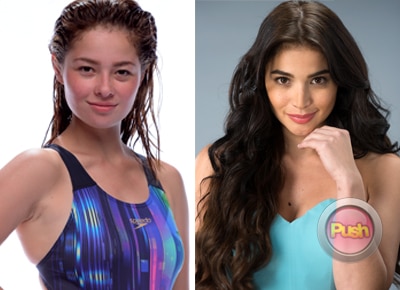 In an interesting highlight on the May 23 episode of primetime soap
Dyesebel,
lead antagonist Betty, played by Andi Eigenmann, in a heated argument with
Dyesebel,
played by Anne Curtis, uttered a line that sent the netizens abuzz.
After losing to Dyesebel in a swimming race, a fuming Betty confronted and berated the girlfriend of her love interest Fredo, played by Gerald Anderson, and ragingly shouted: "You're not classy enough to be with him!"
A line which a bunch of citizens thought to be somewhat resonant of what Anne purportedly told Sam Concepcion, the boyfriend of her younger sister Jasmine Curtis, in real life at the birthday party of her friend Vice Ganda last month.
In a report last April 1, Anne reportedly confronted Sam during the party and yelled at him: "Why are you here? Who invited you? You are not classy enough to be here!"
A number of the show's fans noticed the resemblance in the lines too and took their Twitter accounts their thoughts on the "witty" insertion made by the show's scriptwriters.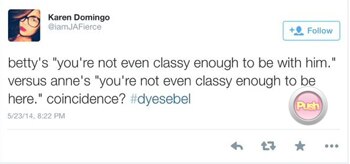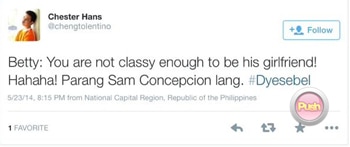 Even Anne's good friend Vice Ganda, seemed to have noticed the same line from the Friday episode.