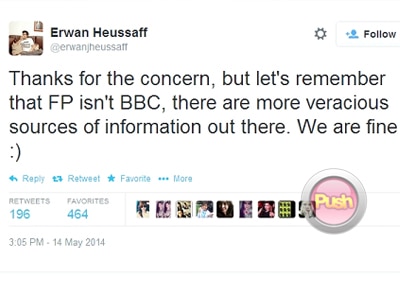 In the same way his girlfriend Anne Curtis often addresses rumors about herself, chef-entrepreneur Erwan Heussaff was also quick to respond on his Twitter account about his supposedly confirmed breakup with the Kapamilya singer-actress.
Erwan on Wednesday thanked their fans who expressed concern about the news.
"Thanks for the concern, but let's remember that FP isn't BBC, there are more veracious sources of information out there," he wrote adding that, "We are fine :)"
Maintaining that he is entitled for his privacy, Erwan emphasized, "Also i'm not in showbiz, so my relationship is mine to keep precious and not yours to devour. If i don't post about it, thats my prerogative."
The AnneKapal The Forbidden Concert 2
star echoed her boyfriend of three year's statement by reposting his tweets on her own account.
Around noon on Wednesday a report from blind item blog Fashion Pulis said that "a very reliable source" confirmed the couple's breakup.
The same report even insinuated that the couple's "behavior" on their respective social media accounts somehow reveals what is supposedly really going on between them.
According to the report, what came between the couple's enviable relationship was a scion of a business mogul who has expressed excessive fondness for the
It's Showtime
host. This man is reportedly been the reason of their constant spat.
Anne, for the longest time, has been very vocal about how blessed she is about having a "refreshing" and mature relationship with the triathlete-blogger despite all the controversies that she figured in of late.
"I think that plays a big factor and it's again refreshing for me because as publicly known, most of my relationships have been with people I've been paired up with or I've worked with. And to have someone who's outside of the industry, respects what you're doing [it's refreshing]," she explained.