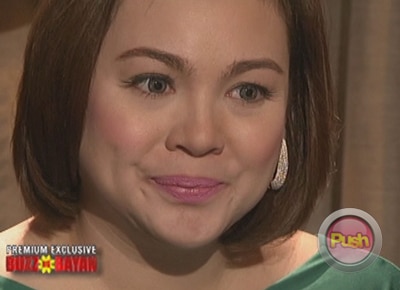 After months of being evasive from the media, actress Claudine Barretto returns with an explosive revelation.
According to her, her marriage with actor Raymart Santiago is a fake.
In an exclusive interview with Buzz ng Bayan on Sunday, Barretto stated that part of what she regrets in life is when she tied the knot again with Santiago on March 27, 2006.
"Dahil hindi lang ako ang nilinlang niya kundi ang buong sambayanang Pilipino dahil hindi pasok 'yun. Eh kasi fake" said Barretto about her marriage with her now estranged husband.
Their first wedding was in Isabela in May 2, 2004. Their second wedding was held in Tagaytay in March 2006, and the actress later found out their first wedding was only registered a month before.
"Hindi pala kami kasal the whole time that we were living in together. We were living in sin pala. So ganon pala niya ako niloko ng sobra. Ang mali ko doon is that I should've backed out na. Pinasok niya 'yung Isabela na kasal namin ng late registration, pinasok niya ng February 24 ata in 2006 tapos 'yung kasal namin March 27, 2006" said Barretto adding that at that time, "nakakahiya mag-back out" which is why the wedding still pushed through.
In the same report, Santiago's counsel, Atty. Ruth Castelo belied her assertion and underscored that their marriage is "registered." Na-late lang ng pag-register pero the fact is totoo naman 'yun. It's still registered. It's not fake, it's not fake, said Atty. Castelo.
Meanwhile, still pertaining to her estranged husband, Barretto finally shed light on the controversial CCTV footages that have been repeatedly mentioned as her supposed evidence for her violation of Anti-Violence Against Women case against him.
"Dahil sa mga ninakaw niyang gamit namin. Mga luggage na LV, may initials na CB so pano naming magiging si Raymart 'yung may initials na CB diba? At tsaka 'yung mga paintings sa bahay. So nakunan ng CCTV 'yun. May conspiracy sa loob ng bahay namin to put our lives in danger also" she claimed.
Apart from her ongoing case against him, Barretto somehow expressed a palpable dismay that her estranged husband supposedly went against her and testified for her house helps for the robbery case they filled against her.
Recall that her house helps made it to the headlines after filing a robbery case against her for supposedly taking their mobile phones and other gadgets before sacking them.
Barretto deems that Santiago's testimony was an effort "para maipit ako."
How does she feel that the two house help's cases against her is advancing in the courts?
"Na mahirap talaga ang justice dito sa Pilipinas. Na mahirap rin talaga na ang kalaban mo maraming pera" she said.
Two months ago, Barretto's former personal assistant with whom she also sent to jail for allegedly stealing for her as well was bailed by her older sister Gretchen Barretto, with whom she had a long-standing feud with.
Another shocking revelation of the former Kapamilya star was that she's been shot at by an unknown person recently while staying at her house's balcony.
"I was at the balcony, vacant lot ang katabi namin and may nagpaputok pero hindi ako natamaan. Tatlong putok muna, sunod dumapa at tsaka yung isa. Then six shots. So tumama lang siya sa glass namin, sa chairs sa balcony, tapos fourth attempt nun" she related.