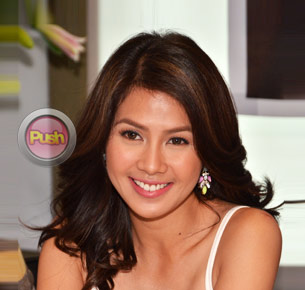 An affirmative answer to this question supposedly came through the photo posted by Kaye's sister Sara Abad on her Instagram account on Sunday. In the photo, Kaye was seen happily sitting on the lap of an anonymous guy, who had his arms around her waist but unfortunately, whose face was covered by the Annaliza actress.
Intrigued follower comments plagued the photo, among them was from a certain Jan Baquir who wrote, "Homaygaaaaad!!! Ang kapit ng boy talagang may something."
Even Kapamilya actress Beauty Gonzalez wasn't able to hold back her "giggle" over the photo.
While there were very little clues as to the identity of the man, many presupposed that it was Paul Jake Castillo. While others thought that it was her Annaliza co-star Carlo Aquino.
Instagram user Salihid wrote, "Si Paul Jake yan tignan mo yung face ng guy at haircut like kay Paul Jake at yung tindig Paul Jake na Paul Jake talaga. Naku umamin na diba Guji?"
User Reima opined, "Parang hindi si PJ, kasi medyo chubby."
Meekaela meanwhile said, "Carlo Aquino final answer. Nagkapalit sila ni Angelica Panganiban."
Recall that the Banana Nite star was formerly in a relationship with Carlo while Kaye was also formerly in a relationship with Angelica's current boyfriend, John Lloyd Cruz.
Interestingly though, Paul Jake commented on the photo which made a lot of followers insinuate that it was him in the photo.
"Sinong kumuha nito? Hahahahahaha," commented Paul Jake.
Kaye and Guji revealed their break up last February with the former admitting that it was her who initiated their split.
"Gano'n lang talaga eh. Trial and error. Nagkataon lang siguro na error na naman ngayon," Kaye said in a previous report. But when asked about the reason for the breakup she simply said, "Gano'n lang talaga... May mga hindi lang talaga nag-wo-work."
In the same report, Kaye opened up that she has some reservations about falling in love again after the ending of her most recent relationship.
"Actually, hindi. Mabilis ako ma-fall eh. Lalo na pag 'yung weakness nandoon sa taong 'yon. Pero ngayon, medyo natatakot. Ngayon ko nararamdaman 'yung takot na siguro, hindi na muna," the actress revealed.
Paul Jake for his past was last in a relationship with actress Melissa Ricks.