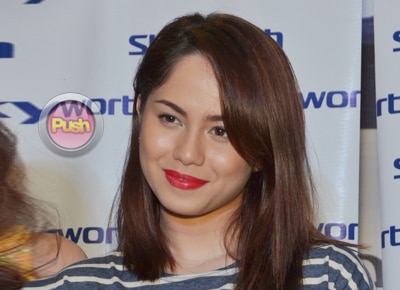 Jessy Mendiola is currently the target of some bashers as reports of her allegedly throwing a fit at the Roxas City airport recently made rounds online.
According to a tabloid report, a security screening officer at the airport made the allegation about the actress's misdemeanor via his Twitter account. "I'm quite disappointed on your attitude you showed earlier at the airport @jessymendiola," a certain Francis Varon wrote.
He followed it with "Saying, 'Bakit ano ba problema sa handcarry ko?' Even senators submit themselves to screening procedures. Gosh. Shame on you @jessymendiola."
Another tabloid report published the Facebook post of a certain Mayumi Brillo Adrias who reportedly saw the entire incident. "Pagbaba palang ng airplane daw sa airport ng roxas city ung dala daw niyang bag tinapon nya daw sa machine kasi ayaw daw nia nakigulo ang mga tao sa knya.aww!!! natural un kasi artista ka, kaya nagkakagulo mga tao nakakita sau..tapos ung hawak daw nyang papel tinapon daw nia sa harap ng dami tao.
"Halerrrr…my bayad ka po pag nagpunta ka sa roxas city may bayad ung manager mo sana tinago mo naman ung ugali mo ndi naman ako naghuhusga kasi dami na kasi nag punta sa roxas city this month e c angeline [quinto], c marian [Rivera], at ung ibang artista sa Kbila po, pero hindi po cla katulad ni jessy sama daw ugali sa marami tao pa pinakita ung ugali nia..sana man lng khit plastik lng ung pinakita mo sa karamihan atleast ndi ka nagmuhkang maldita sa mata nangdaming tao…good bless nlng sa carer mo jessy," the Facebook post said.
The former Maria Mercedes took to her Twitter account to clarify what actually happened on the day that she was about to leave the province after having done a few Kapamilya shows. "@coyxxx oh i didnt say that. Actually i thought the xray machine wasnt working. I didnt throw my bag, i couldnt reach the machine --

"@coyxxx because of the big board covering it. Next time dont put words in my mouth. :) thanks," wrote the 21-year-old actress.