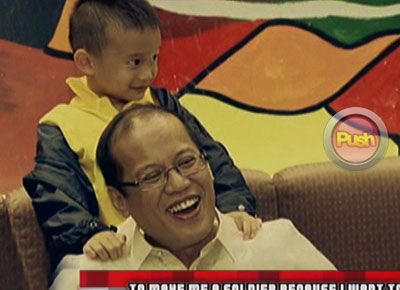 Despite his busy schedule in running the country, President Benigno "Noynoy" Aquino managed to shoot a video greeting for his youngest nephew Bimby who will be celebrating his seventh birthday come April 19. The President's three-part message to younger sister Kris Aquino's son was revealed by the latter through a series of posts on her Instagram account on April 11.
"Bimby you are 7 years old now and you are turning out to be such a nice person. I find that you are becoming more attentive to those you talk [to] and [are] very concerned for their well-being and not just for your own. What more can your mother and all those who love you ask for? God has blessed you w/ so much, you have a mother who loves you and fans who look up to you. I really hope that you develop yourself to the fullest. This means that you must study hard and be the best you can be, because this will help you achieve many things in your life," the first part of the message said.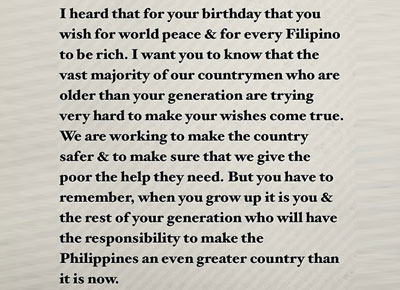 The second part of the message revealed the young Aquino's birthday wish which includes: "world peace and for every Filipino to be rich." PNoy assured Bimby that his wish is not impossible. "I want you to know that the vast majority of our countrymen who are older than your generation are trying very hard to make your wishes come true. We are working to make the country safer and to make sure that we give the poor the help they need."
The Commander-in-Chief then reminded Bimby, as someone who is part of the Filipino youth, what they can do in bettering the nation. "But you have to remember, when you grow up it is you and the rest of your generation who will have the responsibility to make the Philippines an even greater country than it is now," he said.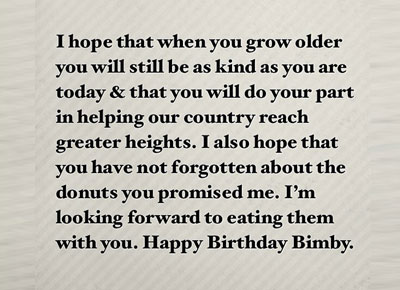 PNoy ended his birthday message by wishing for Bimby to grow up as a good citizen of the country. "I hope that when you grow older you will still be as kind as you are today and that you will do your part in helping our country reach greater heights. I also hope that you have not forgotten about the donuts you promised me. I'm looking forward to eating them with you. Happy Birthday Bimby," the President ended.
In one of the photos' captions, Kris shared the thank you message she gave her only brother as soon as she saw his video greeting. In the message, the Aquino and Abunda Tonight host fervently thanked PNoy for being the "constant man" in her and her sons' lives throughout the years.
"I told him how truly blessed and grateful I am to have a Kuya who loves me and has always been consistently there for me and my sons. I told him I know what a challenge it must have been to have me as the family's bunso and yet I have always felt his love and his desire to help me become the best person I can be. Even during public heartbreak and heartache, my brother was ready to listen, to protect and to remind me privately about the life lessons I should absorb," wrote the Queen of All Media.
As if to hint about how PNoy took
her recent revelation about dating Quezon City Mayor Herbert Bautista
, Kris added, "So today I will listen and obey his well-meaning caution, to not only take care of my sons but to shield my heart as well, for me to think one million times before I commit my heart and for me to choose carefully and only give my heart to a man who can love me as unconditionally as my siblings do
... Tama ang Kuya ko
. Family is forever, family will always be there and family will never let you down. He proves that to me, my sisters and my sons everyday... GOOD MORNING. ??????"