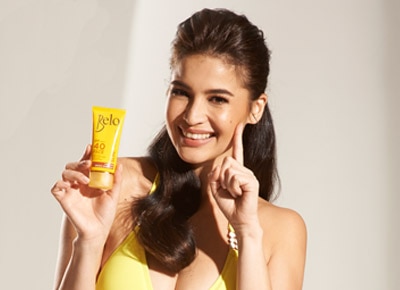 "I always make every summer memorable for me," shares Anne Curtis, who hosted the recently-concluded Bb. Pilipinas 2014 pageant. Her silky skin has her at par with her co-hosts, crowned queens Shamcey Supsup-Lee, Venus Raj and Janine Tugonon. Having discovered the sunscreen that matches her active lifestyle, she is confident in maintaining her healthy skin for years to come.
Anne confesses that she used to think of sunscreen on an as-needed basis. She had a bad habit of putting off the application of sunscreen until the damage has already been done. "When I get too peeled, then I put on sunblock," she confides. "Now I know better. You have to use sunblock even if you're very, very, very lazy. It's very important." To beach lovers, she advises, "Even before you put your tanning oil or tanning lotion, definitely put some SPF to make sure your skin is protected and you don't get burnt. At hindi pa tatanda 'yung skin mo!"
Staying away from the sun is not an option for this Kapamilya darling who spends most of her time outdoors, especially now that she wears the tail of the iconic mermaid, Dyesebel. The new teleserye has her swimming the waters of Coron, Palawan, often under the blazing sun. "I'm always under the sun," shares Anne Curtis. "Dr. Belo knows this, kaya lagi niya akong pinagbabawalan na magbilad – 'Lagi ka nalang nasa araw, it's bad for your skin. I'm glad I found a brand that I could trust, because I'm always under the sun. So, I'm happy that finally she came out with Belo SunExpert--it's about time." Anne said.
With the summer heat rising by the day, comfortable clothes has her baring even more skin. Good thing, Belo SunExpert perfectly matches her lifestyles. It has created a spray sunscreen that provides long-lasting sun protection and more convenient to apply. The brand also has a sunscreen lotion for the body with SPF60 and for the face with SPF40. It has Cell Protect® technology that helps prevent premature skin-aging and strengthens the skin's defense system against age-accelerating UV rays. The product also gives superior cell protection against sunlight and pollution.
This isn't the first time her job has put her under the sun's heat. Anne began her career in 1997, and since then, she has been to countless location shoots, promo tours, fun runs, parade floats, and the like. Dubbed People Asia's National Sweetheart, she shines bright precisely because she does not hide her talent under the shade.
As Dyesebel continues to make waves this summer, Anne is all set to make sizzling summer memories. With Belo SunExpert, this is bound to be the best summer yet.