1. Ellen throws a "pizza party" at the Oscars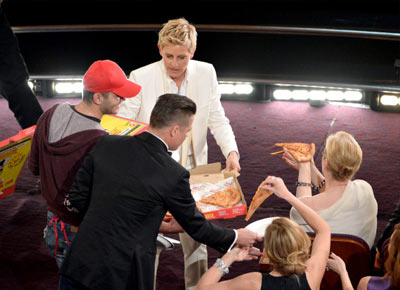 In an unlikely turn of events during a formal occasion like the Oscars, Ellen handed out pizza to its attendees. She even handed paper plates and tissue to aid the celebs from eating their pizza. What a classic way to throw a "pizza party!"
2. Kenya-raised Lupita Nyong'o wins Best Supporting Actress
Mexican-born and Kenya-raised Lupita Nyong'o bagged her very first Best Supporting actress at the Oscars beating some of Hollywood's biggest names like Jennifer Lawrence and Julia Roberts. In 12 Years a Slave, Lupita plays the role of a cotton worker who was repeatedly raped. It was her first Oscars' nomination and her film debut. On her speech, Lupita remarked that dreams do come true. "No matter where you're from, your dreams are valid," she said.
3. Ellen DeGeneres snaps a celebrity selfie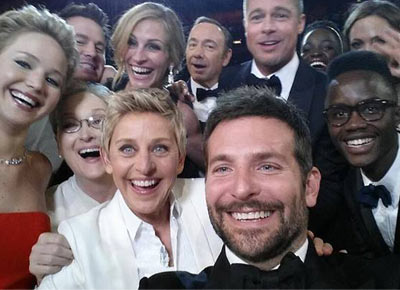 Ellen DeGeneres broke President Obama's record and made history on Twitter after taking a celebrity selfie with Hollywood's A-listers at the 86th Academy Awards. The record-breaking selfie includes movie stars like Jared Leto, Channing Tatum, Jennifer Lawrence, Meryl Streep, Julia Roberts, Bradley Cooper, Brad Pitt, Angelina Jolie, among others. (read complete details of this
HERE
)
4. Jared Leto's Oscars speech for his mother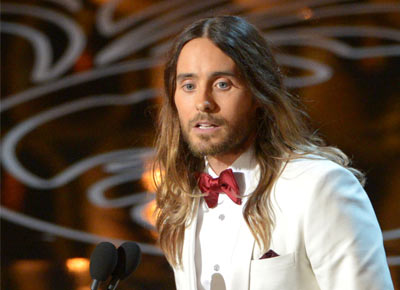 During the acceptance speech for his Best Supporting Actor award, Jared Leto expressed his heartfelt gratitude to his mother. The speech earned resounding round of applause during the awards night.
"In 1971 Bossier City, Louisiana, there was a teenage girl who was pregnant with her second child. She was a high school dropout and a single mom, but somehow, she managed to make a better life for herself and her children. She encouraged her kids to be creative, to work hard and to do something special. That girl is my mother and she's her tonight. I love you mom. Thank you for teaching me to dream," Jared Leto stated.
5. Fil-Am Robert Lopez made history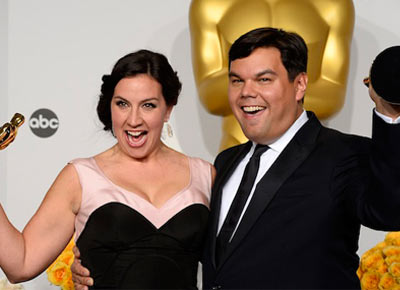 Filipino-American composer Robert Lopez bagged the Best Original Song for their song "Let It Go" in Disney's animated-feature film Frozen. The song beat "Happy", "The Moon Song" and "Ordinary Love". Robert is now the 12th person ever to win an Emmy, Grammy, Oscar and Tony.
Robert's grandfather is pure Filipino and his grandmother was part-Filipino and part-Scottish-American.
6. 12 Years a Slave wins Best Picture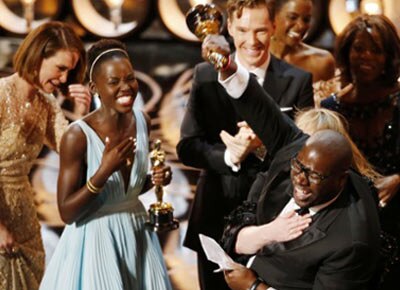 The movie 12 Years a Slave made history at the 86th Academy Awards as the first movie to win the Best Picture award from a black director. The movie's director Steve McQueen on his speech remarked, "Everyone deserves not just to survive, but to live. This is the most important legacy of Solomon Northup. I dedicate this award to all the people who endured slavery and the 21 million who still endure slavery today."
7. Joseph Gordon-Levitt and Emma Watson together as Oscar presenters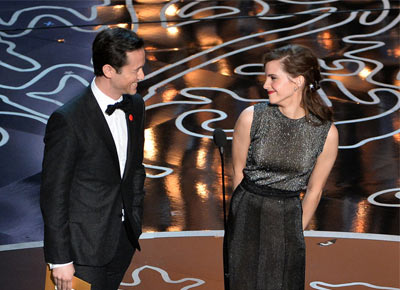 TV screens lighted up even more when Joseph Gordon-Levitt and Emma Watson graced the stage together as presenters during the 86th Academy Awards. Netizens fell head over heels with this sight and tagged both as their "dream couple."
"Emma Watson and Joseph Gordon-Levitt being perfect on my TV #Oscars," @AlleyofBooks tweeted.
"I want an Emma Watson/Joseph Gordon Levitt romantic comedy. Now. Please. It can have music. #Oscars," @HitFixDaniel posted.
"hello new hollywood dream couple, emma watson and joseph gordan levitt. start dating immediately, please," @daniholstrom said.
8. Pharrell Williams sings "Happy"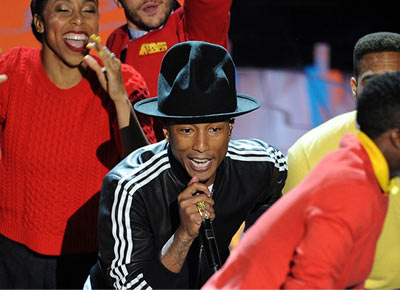 Pharell Williams performed his hit song "Happy" during the awards night and the song was so invigorating that it made Lupita Nyong'o, Amy Adams and Meryl Streep dance. Pharell, who was wearing his signature hat rocked the Oscars stage and received a standing ovation from the audience during Hollywood's biggest night.
Photos: Getty Images