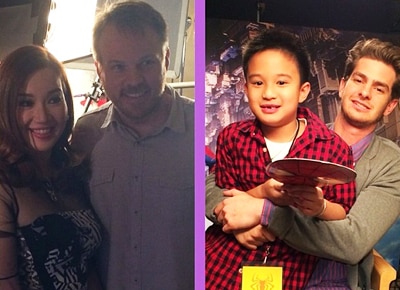 Queen of All Media Kris Aquino took to her Instagram account her gratitude over having the once-in-a-lifetime chance of interviewing and meeting the lead cast of upcoming Hollywood film The Amazing Spider-Man 2.
On Saturday, March 29, Kris flew to Singapore together with her two sons: Josh and Bimby as well as her other nephews.
Kris happily shared on her Instagram account photos of her with Jamie Foxx who will be playing the role of Electro on the film and film director Marc Webb with the caption: "W/ Amazing Spider-Man 2 director Marc Webb & Peter Parker/Spider-Man himself, Andrew Garfield. Thank you Columbia Pictures Philippines for this memorable experience!"
But more than the privilege of meeting these stars, what made the Aquino and Abunda Tonight host happy is the fact that she was able to grant her youngest son's birthday wish.
"Thank You God for this most ultimate pre birthday THRILL for my baby (yes Bimb will always be my baby even when he is 50 years old!)" she wrote.
The premiere Kapamilya host described Andrew as a "true star" for being the "the sweetest, kindest & most genuinely charismatic star I have ever had the privilege of meeting!!!"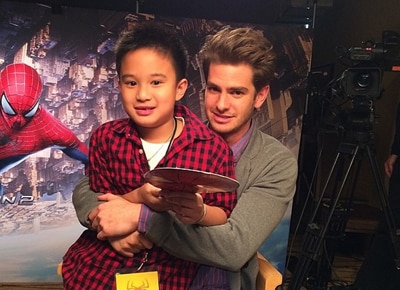 "Thank you for making my son's dream come true! #spiderman ???" Kris wrote as if talking to the actor who would be playing the role of Peter Parker/Spider-Man.
Bimby is set to celebrate his 7th birthday next month and in a photo posted by Kri, the box office actor was seen being hugged by the 30-year-old lead character of the superhero flick.
Spider-Man 2 is set to premiere in cinemas nationwide on April 30.
The cast of Amazing Spider-Man 2 including Andrew, Jamie, and Emma Stone are currently in Singapore to kick off this year's Earth Hour.
Andrew is the first superhero ambassador of the Earth Hour, a flagship project of the Worldwide Fund for Nature (WWF) in Singapore. The Earth Hour is the largest environmental grassroots movement which happened on March 29 and lasted for an hour.