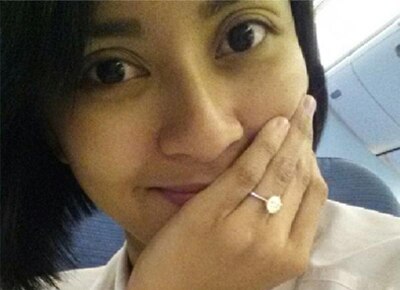 On her Instagram account @iamsuperbianca, Bianca Gonzalez showed off her wedding ring and other sweet gestures fiancé JC Intal did for her while she was on her flight to London.
In the picture where the Umagang Kay Ganda host flashed her engagement ring, Bianca placed the caption, "Happiest girl in the world. @jcintal7 #jcandb".
In her next post, Bianca was surprised when the flight staff served her breakfast with a sweet note from JC.
"My fiancè is the sweetest part 1: during breakfast on the plane, I was served this note in a wine glass.@jcintal7 #blessed #jcandb," said her caption.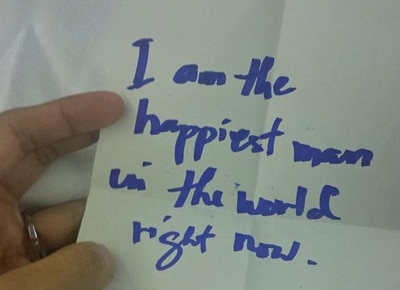 Bianca received another note from JC during lunch.
"My fiancè is the sweetest part 2: around 5 hours into the flight, while eating my in-flight adobo lunch, this note came in another wine glass. @jcintal7 #blessed#jcandb," posted the TV host.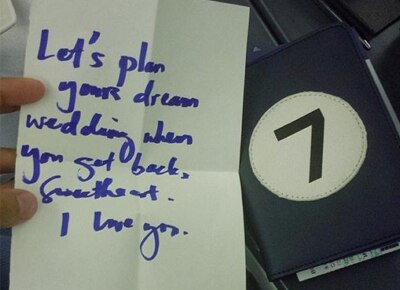 JC's notes had a third part, which really made Bianca feel most overwhelmed. Her last post's caption was:
"My fiancè is the sweetest part 3: when I woke up on the plane, the pilot (yes, as in the pilot of the plane!!) comes out to talk to me and congratulate me, hands me JC's passport holder (that I was borrowing from JC before I left pero he said no), and inside was this third and final note. @jcintal7 #blessed #jcandb#luckiestgirlintheworld
Fans were also impressed with the basketball star's romantic notes.
"Ano ba ito?! Ang sweet nila... Ang tamis!!! Kainggit to death..." @morenaqueen commented.
"Grabeeee talaga @iamsuperbianca and @jcintal7. Over load na sweetness. It feels good to check IG and having this.. Diko pa na get over yung proposal and now read this note.. Super kilig! Grabe!! Nakaka inlove! Sobra! Grabe!!!" @pinas063 posted.
The couples' followers also said they are anticipating more kilig posts from JC and Bianca about their upcoming wedding.