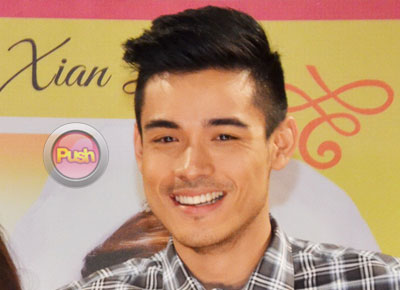 Showing how sincere and how deeply sorry he is for what had transpired, Xian Lim sent flowers and a letter of apology to Bea Binene after the actor repeatedly mentioned Bea's name in reference to Kim Chiu's kalokalike during the Chinese New Year episode of Banana Nite.
"I was surprised when I saw this when I got home. Thankyou, @xianlimm! You don't need to give me these, but still, you did. God bless you! :)" Bea posted on her Instagram account, Monday, after receiving a pot of flowers from the Bride for Rent actor.
Attached to the flowers is a card with Xian expressing his apology to the actress."Hi Bea! I just want to apologize for what happened during Chinese New Year. I want you to know na I didn't mean it as an insult noong banggitin ko ang pangalan mo. Thanks po for understanding & sorry for everything," the letter stated.

Xian's behavior during the said Banana Nite episode has earned him major backlash from netizens. The actor nonetheless said sorry on Twitter hours after the live show was aired. "I deeply apologize if I caused negative feelings while singing onstage during the Chinese New Years Eve countdown. It was not my intention, and I take full responsibility for my actions," he tweeted.

Bea Binene also released a statement via Twitter saying that she did not take the whole incident as an offense. "I don't take that personally. I have nothing against the both of them. I even wanna thank Xian for mentioning my name. To the Kalokalike, you are pretty too and I'm happy na kahawig daw kita. Thank you," she posted.

The kalokalike Charmae Viking is yet to speak up about the incident. Meanwhile, Kim Chiu rallied in defense of Xian during an interview. "Sana huwag muna sila humusga kaagad sa tao," she stated.

The Banana Nite director Bobot Mortiz has already clarified the issue saying that it is not entirely Xian's fault as the actor was not briefed about the guest appearance of the kalokalike.