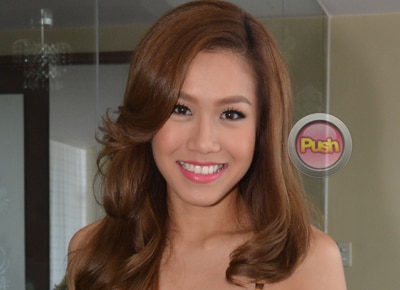 A grateful Rachelle Ann Go took to her Twitter account, to thank those who voted for her to get her first West End award.
Rachelle is playing the role of the lead bar girl Gigi in the current revival of Miss Saigon in London. The said role earned her the Best Featured Actress in a Musical in the 2014 BroadwayWorld UK Awards.
The winners was announced on the award-giving body's website last Friday.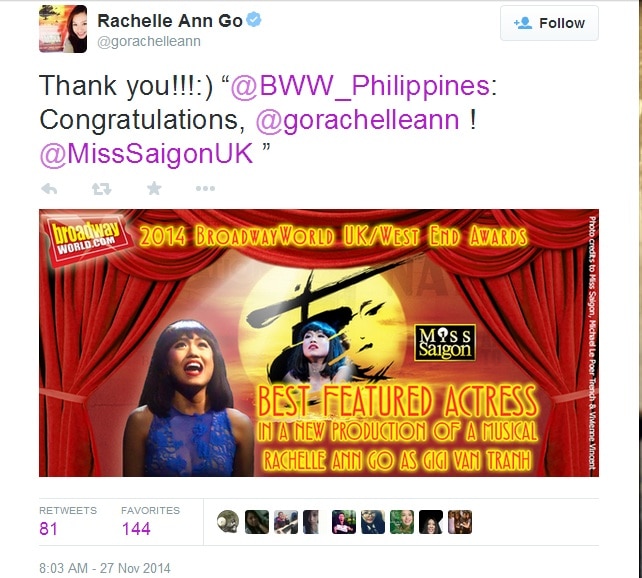 Apart from Rachelle, other Filipino thespians on the show Eva Noblezada and Jon Jon Briones were also recognized by Broadway World.
Filipino-American performer Eva Noblezada, who is playing the role of Kim, took home the Best Leading Actress in a New Production of a Musical recognition while Jon Jon, who plays the role of The Engineer, earned the nod as the Best Leading Actor in a New Production of a Musical.
Out of the 25 awards, 11 were picked up by Miss Saigon.
Below is the complete list of winners:
Best Choreography in a New Production of a Musical - Bob Avian & Geoffrey Garratt - Miss Saigon
Best Costume Design in a New Production of a Play or Musical - Andreane Neofitou - Miss Saigon
Best Direction of a New Production of a Musical - Laurence Connor - Miss Saigon
Best Direction of a New production of a Play - Yael Farber - The Crucible
Best Featured Actor in a New Production of a Musical - Kwang-Ho Hong - Miss Saigon
Best Featured Actor in a New Production of a Play - Adrian Schiller - The Crucible
Best Featured Actress in a New Production of a Musical - Rachelle Ann Go - Miss Saigon
Best Featured Actress in a New Production of a Play - Samantha Colley - The Crucible
Best Leading Actor in a New Production of a Musical - Jon Jon Briones - Miss Saigon
Best Leading Actor in A New Production of a Play - Richard Armitage - The Crucible
Best Leading Actress in a New Production of a Musical - Eva Noblezada - Miss Saigon
Best Leading Actress in a New Production of a Play - Anna Madeley - The Crucible and Gillian Anderson - A Streetcar Named Desire - The Young Vic
Best Lighting Design in a New Production of a Play or Musical - Charles Balfour - Richard III
Best Long-Running Show in the West End - Les Miserables - Queens Theatre
Best Musical Direction (Fringe or regional) - George Dyer - Dogfight
Best Musical Direction (West End) - Alfonso Casado Trigo - Miss Saigon
Best New Musical in the West End - Urinetown - St James Theatre
Best New Play - Shakespeare In Love
Best New Production of a Musical (Fringe/Regions) - 20th Century Boy - UK tour
Best Performance in a Long-Running West End show - Carrie Hope Fletcher - Les Miserables
Best Scenic Design in a New Production of a Play or Musical - Totie Driver, Matt Kinley & Adrian Vaux - Miss Saigon
Best Sound Design in a New Production of a Play or Musical - Mick Potter - Miss Saigon
Theatrical Event of the Year - West End Live
Theatrical Venue of the Year - Southwark Playhouse
Understudy of the Year in any production of a Play or Musical - Carolyn Maitland - Miss Saigon