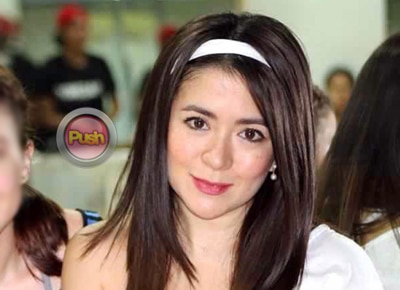 After a ten-year hiatus from Philippine showbiz, Antoinette Taus admitted she is excited to take the stage again as Betty Rizzo in 9 Works Theatrical's production of
Grease
which runs from November 15 to December 7 at the RCBC Plaza in Makati City. Antoinette said she is not bothered that the lead role of Sandra Dee went to Tippy Dos Santos while she plays the feisty leader of the Pink Ladies. "When they said it was going to be Rizzo, first I was scared and a little bit intimidated but now I actually feel super honored and flattered because I know it's a role that has to be portrayed properly. But I'm super excited, inspired, and fulfilled. Rizzo is actually a big, substantial part of the play. Everybody has their moment to shine. Between the four main characters, we kind of all feed off each other and I'm so happy that I actually got Rizzo. It's been fun. It's super challenging and I'm learning a lot in the process as well. I feel like I'm still growing even if I've done this quite a few times in the past. I'm proud and honored that they chose me," she shared.
Antoinette said she has had to make a few adjustments to her performance during the month-long rehearsals for the play. "Before when I used to do theater yung singing style ko pang-Broadway, pang-theater or pang-Disney and then nung nag-showbiz na ako kinailangan kong matuto maging mas pop, maging commercial so ngayon parang wait, kailangan ko pigilan yung sarili ko sa mga pop na style, kailangan balik ka ulit sa clean and clear type of singing. It's exciting, it's a challenge and it's very fulfilling kasi napakahirap ng ginagawa namin pero napakasaya din. So every day I go home feeling proud and fulfilled and it's an amazing experience," she admitted.
During the press preview for the play last November 14, Antoinette shined on stage during her solo numbers and was a definite scene-stealer with her partner on stage Rafa Siguion-Reyna. Anotinette said she and her role have something in common. "Kaya ako nakaka-relate kay Rizzo, nung high school kasi parang friend ko lahat but I'm not that age anymore, I'm not even college age anymore. I'm in my thirties and I feel like what makes Rizzo so interesting and so relatable to me is the fact that she actually still believes in love. Parang sobrang jaded na niya and sobrang dami na niyang pinagdaanan at an early age and ako naman I may not have gone through a lot of things at an early age pero throughout my twenties ang dami kong experiences," she explained.
Apart from releasing a new single, Antoinette said she is also working on an upcoming TV project. "I literally can't say anything yet like which network and who I am working with but I'm taping for it during Grease so it's kind of stressful but fun and exciting. I'm also releasing a single with Viva records. We're just working on the legalities because the song was written in the States and the song will be coming out. Right now my plate is full," she said.
What started out as a simple visit has become a lucrative career decision for the 33-year-old actress who will now be based in Manila. "Yes, for good na talaga. Actually dapat three to four months vacation lang siya. Medyo extended to be with family and may gagawin ako sanang a couple of projects and release a song and then everything just spiraled and turned into this. So it was really unexpected but I'm very happy that I actually followed my heart and followed God's sign. I feel like I'm right where I should be right now," she said.
Watch Antoinette Taus in Grease presented by 9 Works Theatrical weekends until December 7, 2014 at the RCBC Plaza, Makati. The play also stars Guji Lorenzana, Tippy Dos Santos, and Rafa Siguion-Reyna and is directed by Robbie Guevarra. For tickets, call 586-7105 or 0917-554-5560 and e-mail info@9workstheatrical.com.