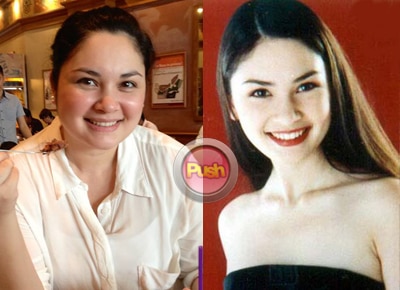 After working on her last drama series almost a decade ago), former teen actress Janette McBride exclusively shared with
Push.com.ph
how she has no regrets about turning her back on a promising acting career (she was awarded New Movie Actress of the year for her role in
Tanging Yaman
in 2001) and finally settling down last year.
"My last TV appearance was in 2006 on GMA called, Makita Kang Muli. It was so fun portraying the kontrabida. In ABS-CBN, one of my last appearances was on Talk TV in 2001. My last movie appearance was alongside Andrew E in Burles King Daw O. Some of my friends and family still catch old footage of me on TV from time to time. It's been eight years since I was last seen in showbiz. I'm so thankful for the experiences I had, as I was blessed with the privilege and opportunity to have a creative outlet and a very unique life experience! It has shaped who I am today. After showbiz, I completed a degree in Human Services in Australia and have had several work experiences. It turns out I am a nerd and I love learning!" she shared.
Janette said that despite leaving showbiz, she has kept in touch with her former colleagues. "I became close to my former Talk TV co-hosts, Julius Babao, Tintin Bersola-Babao, and Ryan Agoncillo, and we have remained in contact over the years. 'Papu' Julius was even my wedding Ninong. I'm also still in contact with some ABS-CBN road managers, executives, writers, and staff members. All have been so kind to me over the years," she said.
The 31-year-old former actress said that there is still a part of her that wants to act until now. "I certainly miss acting because it's a very dynamic, creative outlet for me. I miss portraying various characters and interacting with brilliant actors and directors in standout projects. I sometimes still get asked to host and do public speaking events, so that is always fun. However, I haven't really thought about returning and I'm not sure if the opportunities for me would still be present since it's been so long already," she added. (continued on next page)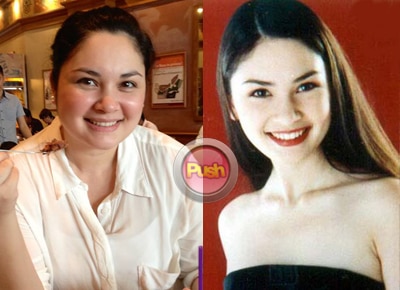 Even though she was formerly linked to radio personality and host DJ Mo Twister with whom she had an on-and-off relationship with from 2000 to 2007, Janette said she was happy to settle down with her non-showbiz boyfriend Bens Omaga in September 2013. "My husband and I met in 2011 at a singles retreat in our church, Victory Christian Fellowship. Although we didn't talk to each other during the retreat, he was my 'crush at first sight'.
Ang pogi na, mabait pa!
He's a wonderful man, an answered prayer. We got married in 2013 after being a couple for one year. I was blessed to have my friends and family fly in from Australia to witness our wedding," she recalled.
Janette said that she and her husband are planning to start their family very soon.  "We don't have children, but are praying and planning to have them soon. We're not getting any younger! Those who know me, you know I love animals. So right now, our 'kids' are our two cats," she admitted.
The Fil-Australian beauty said she finds her current line of work very fulfilling and is happy to be able to have lived in Australia and the Philippines. "Because of my love for the two cultures and my large family, I always seem to have one foot in the Philippines and one foot in Australia, so to speak. I've lived in both countries on and off for 15 years. I started as a teacher of film and public speaking a few years ago in Victory Christian International School. I'm currently in my second year as the Human Resources Department Head there. It's a challenging but rewarding role. I love the school community and my colleagues. There is so much purpose in working for a school that aims to serve God with excellence. Right now, I enjoy making desserts and cooking. I am also self-studying French, because I've wanted to learn it for years. I'm planning to take my Masters in Psychology next year," she explained.
Janette also shared a message for her fans and supporters, via an e-mail to Push. "To my former fans, hello and thank you for your unending love and support. Thank you for greeting me when you see me around! To those who want to join showbiz, I'll share with you what my Mum shared with me when I was new to showbiz. Work hard and strive to be excellent in your work. Learn from those more experienced. Always be humble and kind to everyone, regardless of their status and your status. Protect your values so you won't compromise them. Study! Finish high school and get a college degree. Have both beauty and brains. Lastly, pray and follow Proverbs 3:5-6," she wrote.