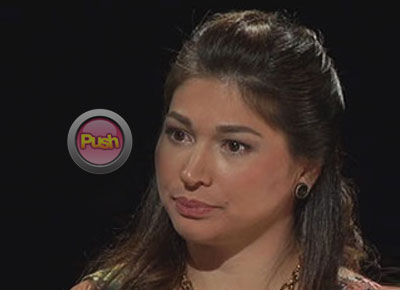 While she remains proud of son Kobe Paras, Jackie Forster would rather not be "tagged" on articles about her estranged sons. Jackie took to her Instagram account on Sunday to reveal her request to her followers.
"Please everyone stop tagging me on articles specially on FB about Kobe. I will always be proud of him, them. Every time I read the links there are negative comments from small minded people who are one sided and have nothing positive to add," she lamented.
Reports have it that Kobe was drafted by the University of California, Los Angeles (UCLA) for their men's basketball team, a news which the young shooter confirmed himself via his Twitter account. "I have made my decision...I'm really happy to say that I have committed to UCLA!" tweeted the Batang Gilas standout.
"I am thankful that Coach Steve Alford is willing to take a chance on me," contiued PBA great Benjie Paras's son. "I am very appreciative to all the coaches that made offers to me for their interest. While all of this is new to me, I realize that I can only go to one college so I felt it was not necessary to continue the recruitment process with so many very good schools and coaches already at the table. I see no need to seek out more offers."
Meanwhile, speaking of Benjie, Jackie added on her post that she's also not ready to talk about her ex-partner. She explained, "I'm not ready to talk about what Benjie has done so stop talking about me like you know me. One day it will all surface for now please be quiet if you have nothing nice to say because you are just as imperfect as I am."
Jackie's obvious dismay even made her call for critics to assess their own lives first before putting hers on the spotlight. "Check yourself before you judge. For those idiots who are living in my past.. get a fricken life. You know nothing about my past only what you watch on TV and what you read on tabloids. Try talking to my lawyers before speaking your mind," she fumed at the caption of the photo she posted.
She even noted that maligning her online simply "Don't add anything substantial to those articles on my son" and that their comments, if anything actually make Kobe "look more stupid."
"You dont 'stick up for him' for putting down his mother. Showing people from all over who become curious about the kid by reading these links - that Filipinos are this shallow and disrespectful," Jackie said.
While it wasn't fully revealed yet what led Jackie's estrangement to her two sons, Kobe and Andre, in previous reports, claimed that they have been "traumatized" by what she did to them in the past.
Meanwhile she ended her lamentation by pointing out that that such predisposition to negativity has been the root cause why the nation "can't rise above the negativity." "… Because they choose to add to it, swear by it and pay it forward any time they get," she ended. "Change your ways people. It actually feels good to have a life and do good unto others. Try it and experience blessings instead of curses on your life. #Godiswatching"