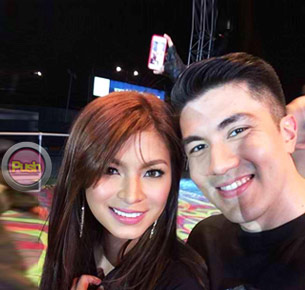 Luis Manzano and Angel Locsin's recent visit in Dubai for an ASAP show surely became memorable not only for being one of the show's largest show abroad but because they seemed to have had a really good time as shown in the photos posted by the stars on their respective Instagram account.
Like the other Kapamilya stars, Angel and Luis flew to Dubai recently to be part of the two-day show of the ASAP variety show at Dubai Festival City.
The Minute to Win It on January 25 host posted a photo of him kissing a smiling The Legal Wife actress on his Instagram account with the caption: "Kulet and Kiti headed back to Manila :)"
The said photo has now over 18,700 "likes" and 1,100 comments.
Luis also posted a photo before that of him and the actress all made up and seemingly onstage with the caption, "Hi guys :) from kulet and kiti! @therealangellocsin."
The photo was somehow more popular as it gained over 20,600 "likes" and 1,200 comments.

Angel for her part, made her own followers giddy as she posted a dapper solo photo of Luis while inside the plane with the caption: "Maraming salamat po sa mga nanuod ng asap live dito sa dubai! Pabalik na ngayon ng pinas kasama netong seatmate ko?? simulan na ang masarap na usapan."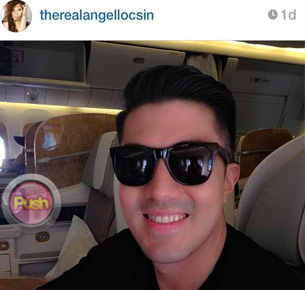 While both of them have been consistent in saying that they are not yet an item again, Luis recently confessed that he's still in love with the actress following Angel's confession that she wants to be with him again after rekindling their communication during the holidays.
Angel's last relationship lasted over a year with football player Phil Younghusband. They both confirmed the break up October last year which coincidentally was around the same time that Luis confirmed his split with his girlfriend of two years, actress Jennylyn Mercado.

Photo Credits from Luis Manzano and Angel Locsin's Instagram Account