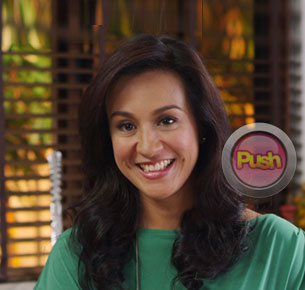 For the longest time, the kitchen has undeniably been the heart of every home. It's been a go-to place for all sorts of people. Whether they are looking to discover a part of themselves, unwind after a harried day or even to just simply show their love to their loved ones through a hearty meal. Cooking a sumptuous meal has been a language of love for many people.
While many might find it hard to pinpoint a definite common element among actresses Mikee Cojuangco-Jaworski, Maricar Reyes-Poon, Kristine Hermosa-Sotto and Bea Alonzo, aside from their stunning looks, it is their respective kitchens and families that can attest to how these ladies have truly come a long way all for their singular love for cooking. All their adventures and misadventures inside the kitchen, the four said, only made them love cooking even more.
Mikee: The Urbanista
The entire country knew her as an endearing actress and a gold-medalist equestrienne, but to her husband Dodot Jaworski and their three sons, she is the caring mother whose simplicity spills to her homemade dishes.
Having started cooking during her teenage years while she was competing abroad, Mikee confessed that she was initially the type to just make do with what her kitchen has. Now though, being married for 14 years and with their very own farm to pick her ingredients from, Mikee has grown inside the kitchen and eventually became the inventive cook that she never ever envisioned herself to become.
Not one to strictly follow a recipe, Mikee says there are times that she gets amazed by her own cooking expertise.
"There was a time when my kids requested prawns thermidor. Nagawa ko naman kagad. Tapos kapag may gusto kaming kainin, tapos online may recipe, depende sa mood, I can cook them like chicken parmigiana" she recalled.
Although she had already dabbled into cooking "difficult" dishes like ensaymada and bibingka, Mikee shared that she would really love to learn how to make fresh pasta from scratch.
Meanwhile, more than the satisfying feeling that cooking gives her and, in turn her family, Mikee said that the best part of cooking and eating is how it binds everyone at the table,
"Nagiging source of bonding talaga ang food that we all look forward to eating."
So to mothers out there who are still anxious to put their cooking skills to practice, Mikee has something to say: be brave and imaginative.
"Kasi ganon naman eh to be able to discover something new, whether it's a taste or a type of dish or yung may talent ka pala na magluto. Dapat wag tayong matakot na magkamali kasi normal yun as part of a learning process. And 'wag kang matakot to search the internet for techniques kasi, let's face it we also have to be practical. Kaya nga thank God there are stuff like complete mixes from Knorr which can help in making our cooking convenient and perfect every time.
"Kasi hindi naman pwedeng lagi tayong kumakain sa labas. Kaya for those stuff that you want you can cook it naman at home and still achieve the same taste as with the restaurants that you visit. Kapag tayo ang nagluluto alam natin kung ano ang pinapakain natin sa pamilya natin," Mikee opined.
Bea: The Foodista
Box office actress Bea Alonzo for her part had it differently. Bea related that she initially became exposed to cooking by watching cooking shows. But as time went on, she has learned few bits of recipes and managed to invent her own particularly when she started living independently.
Taking a path of her own, Bea shared her specialty ranges from pasta to Italian food, unlike her mother and Lola, who, she boasted, specialize in Pinoy dishes.
"Magaling sila magluto ng Pinoy food. Ang galing magluto ng Nanay ko tsaka ng Lola ko," Bea enthused.
She has been into cooking lately and Bea gladly shared that she does host parties and cook in her own house every once in a while. Her constant guest? Her boyfriend Zanjoe Marudo, who, she appreciatively shared, is big on Pinoy food and who makes it a point to eat whatever she has prepared for him.
Kristine: The Passionista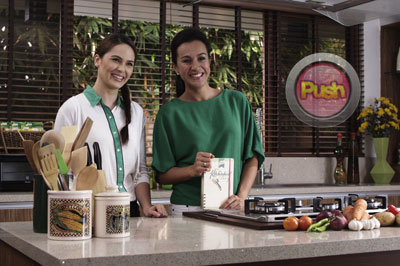 If there is one word to describe Kristine's amazing cooking journey, it would have to be "passionate."
Learning to cook has always been in her heart and she was able to take baby steps towards fulfilling her goal when she tied the knot with Oyo Boy Sotto some two years ago and, eventually, became a mother to her kids Kiel and Ondrea.
"Wala talagang nagturo sa 'kin magluto at di talaga ako nag-aral. So ngayon, nanonood ako ng cooking shows and tumitingin sa internet. So 'yon, dun ako natututo.
"Plus yung family pa ni Oyo talagang magaling magluto. So parang [additional source] yun for me kasi andami kong pwedeng panoorin tapos sinusupport naman nila ako," shared the 29-year-old actress.
Normally, the smell of seafood dishes and steak wafts through Kristine's kitchen however she adds that she really enjoys experimenting on a variety of dishes instead of just mastering one.
"After kong magluto, pagpapahingahin ko muna yung recipe na 'yan. Tapos next time around, kapag okay-okay ka na and nadagdagan na ang knowledge ko, I'm gonna cook it again," Oyo's wife shared.
Her bulalo, however, has been a staple in the Sotto household especially since she and Oyo are not into fried dishes and their kids love slurping flavorful broths.
Kristine says that she really owes a lot of her kitchen success to her ever supportive husband who often gives her constructive criticisms about her dishes. With him by her side, she remains positive that she'll be able to whip up a sumptuous dish without needing to consult a recipe book or a friend for tricks on how to cook it.
Needless to say, Kristine's love for cooking is really a strong driving force in her cooking journey. But what does she really love about cooking?
"What I love most about cooking is yung nailalabas ko talaga kung ano yung nasa heart ko. Yung napo-pour out mo sa isang bagay na people will like or experience. Tsaka yung makita mo yung ngiti sa mukha ng mga mahal mo sa buhay na, 'Oh, hon, you got it right!'" she related with a smile.
Maricar: The Newlywed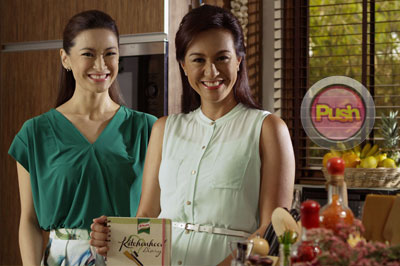 Recently-wed Maricar, on the other hand, was among a handful of people who has come to know cooking very young as a kitchen assistant to her mother.
"I think was five when I was helping my mom bake a cake. She made me mix the batter and I remember tasting the cake na hinahalo ko," she shared laughingly.
But her interest in cooking flared when she met her former boyfriend, now husband, Richard Poon, who, according to her, was an amazing chef even prior to entering show business as a singer.
"... Nagstart ako talaga when I was in college when I learned to cook pasta. Then mas na-enhance siya nung na-meet ko si Richard kasi he's a chef before so tinuturuan niya ako," said Maricar.
But even if she confesses to looking up recipes for her dishes, Maricar boasts that once she gets the basic ingredients of the recipe she makes it a point to tweak the same dish the next time she cooks it.
There is however one dish that the 29-year-old actress has owned throughout the years and that is the all-time Filipino favorite, sinigang. Perfect for this rainy season, Maricar said she has always been a fan of the asim-kilig experience that the thick broth of sinigang can bring to her tummy. Maricar has noted that she remains grateful that sinigang mixes have made cooking for her extra convenient.
Learn more cooking tips and tricks from budding cooks like Bea and Maricar and longtime married moms Mikee and Kristine through the Knorr Kitchenhood Diaries, a nine-part cooking series showcasing how the love for delectable food and the passion for cooking for their loved ones has drawn all kinds of women together. The Knorr Kitchenhood Diaries will start airing on September 2, every Monday, Wednesday, and Friday in Minute to Win It and The Love Story of Kang Chi.