Metro Magazine's May cover girl Kim Chiu happily talked about how her fashion style has evolved through the years. Although there's no particular Hollywood actress that she looks up to, the 23-year-old revealed that she surfs a few foreign entertainment websites to keep up with the trends. But mostly, she thanks her glam team for developing the best style that suits her—feminine, vibrant and classy.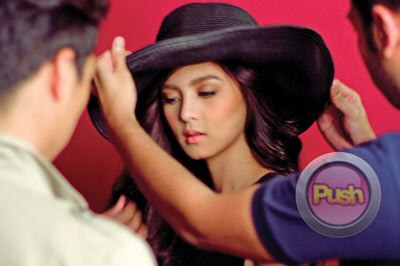 Kim also casually addressed the longstanding rumors that she went through cosmetic surgery to enhance her pretty face. "Ang daming nagsasabi na nagpagawa daw ako ng face-yung nose ko, yung chin ko, lahat na. They'd tell me, 'I miss yung PBB look mo'—eh hello bata pa kaya ako nun. We all mature; hindi naman yung ipapaayos mo yung mukha mo. Eh 'di hindi na ako si Kim Chiu 'di ba?"
CAPTION 1: Kim dons a hat to match her all-black ensemble. In the final layout, Kim doesn't bother with a blouse in her daring blazer suit and matching pants.
CAPTION 2: Matching her monochrome dress with a pair of striped wedges adds a touch of vibrancy to her elegant office look.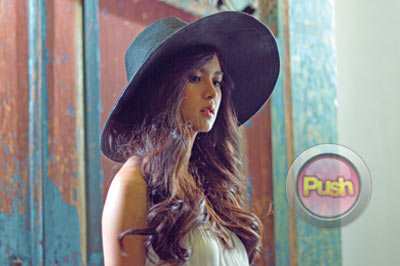 CAPTION 3: Kim's makeup tip: "Before applying makeup, put on sunblock or makeup base. Before sleeping, be sure to wash your face with soap and water para makahinga yung skin mo."