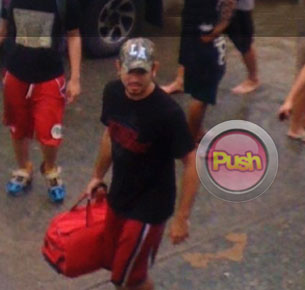 He was admired by many for his heroic deeds during the Typhoon Ondoy in 2009. But this time, Gerald not only braved the floods to help residents in his neighborhood but he also volunteered for the relief operations of Red Cross. He even encouraged his friends from showbiz to ask for more donations for the increasing number of displaced casualties due to the catastrophic monsoon rains recently.
Gerald's Star Magic handler, Nhila Mallari, also related via Twitter how the young actor immediately responded to her call of help yesterday. Apparently, Gerald just came home from a relief operation when he learned that she needs to leave her house in Cainta, Rizal and go to a safer place. Gerald and his friends didn't hesitate to come to her rescue. "I informed him when we were texting kanina and agad agad sabi nya sunduin na nya kami. Thank U Ken, Jalal, Jamil, Dennis for going your way. Malayong paglalakad sa nagmistulang dagat na kalsada. Salamat sa oras nyo at love. Ramdam ko yan. "
Pictures of Gerald in waist-deep water, helping kids in floating rafts along the way, quickly spread on Twitter. And many of his fans couldn't help but be amazed with his compassion and kindheartedness: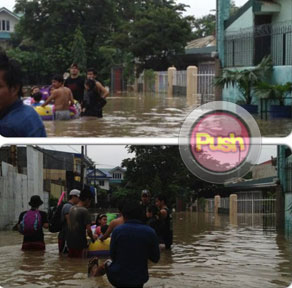 "nkkaproud c Ge kasi ndi sya ngddalawang isip lumusong s baha basta mktulong. have a good heart. :)) beauty inside and out." -@?itsmeSASHINIC
"i like gerald very much...kung magkakaroon me brother,gusto ko katulad nya ,walang arte sa sarili,kayang tumayo sa sarili.." -@acetema
"Ge is truly a good person in and out, he is putting his life out there in their streets to save neighbors. God Bless You Gerald Anderson!!!"- @MsCzarinaC
"@GERALDnaticxs #GeraldAnderson isang mabuting ehemplo sa mga kabataan at kapwa artista... Saludo talaga ko su... Man w/ pure heart :)" -@momie27
Photos courtesy of @nhilanhils & @imthemankevin via Twitter.