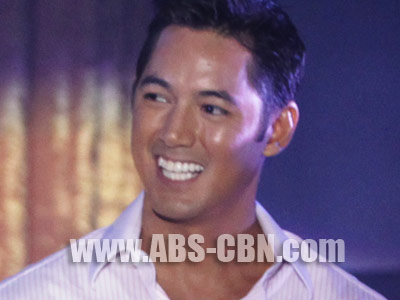 As one of the hosts of the first and longest weekly travel and adventure show Sports Unlimited, Burmese-Australian hunk Marc Nelson feels lucky to have such an exciting job. "We're always doing new things. We just came back from Camarines Sur last weekend. We're featuring the Camsur marathon, it's the biggest international marathon here in the Philippines. We're going back there to cover the dragon boat festival and there's a wakeboarding event. Every week in Sports Unlimited is different. We've been doing the show for over 13 years now and I'm consistently amazed at the fact that there is always something new to do and new places to go. We were down in Mindanao recently in Bukidnon, in Lake Sebu, Gensan, Saranggani and there's so much to do there. Scuba diving, there's ziplining, there's white water inner tubing, you name it and it will be done in this area. Just watch Sports Unlimited to find out new things to do in the country," he said. "Wow I'm actually running low on things that I want to do because I've done so much. I like traveling outside the country every now and then because it gives me ideas I can bring back to the Philippines and tell people all about. It's great seeing all these wonderful things in the Philippines. And that's why I like being outside and get more experiences from that," he shared.

Even off-camera, Marc says his life is still all about sports and the outdoors. "You know what, it's going to sound really, really strange but what I do on camera is pretty much what I like to do off camera. In my downtime, I'm doing the same thing. I'm swimming with whale sharks, I'm doing wakeboarding, kiteboarding, travelling. If I'm just in manila for a few days, I'll hit the gym as much as I can, I relax with friends, maybe watch a movie or do DVD night at home, do dinners, have friends over," he explains. Marc works out at the gym three to four times a week, but occasionally enjoys indulging in his favorite comfort food. "When I'm in a funk, I tend to try and eat healthier. I'll treat myself if I've been good. That's the time I might have some pizza and French fries. Every now and again I don't believe in having none of this or that, everything should be in moderation. But if I'm in a bit of funk I'll try to eat healthier because when I feel like I'm in better shape, healthier shape then I can indulge a little," he said.

Another interesting fact about Marc is that he has a fondness for turtles. "I like collecting turtles. I have a couple of pet turtles. But people also tend to bring me turtle statues, figurines from all over the world. I already have a couple of hundred. I just like turtles and once my friends found out about it then all of a sudden they're like, 'Oh yeah now we've got something we can get for Mark!'" he shared. Marc also admits he is a self-confessed techie. "I like gadgets. I'm pretty psyched because I just got the iPhone 4 and I just got my iPad and a blue tooth connection for my stereo so I can connect my iPod to my stereo and play all my music from there," he said.